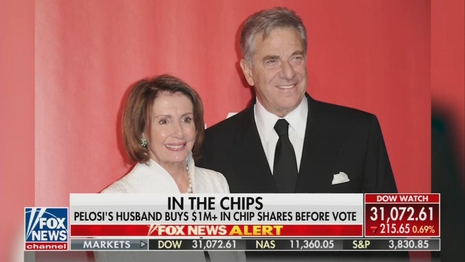 Late Friday, it was reported that House Speaker Nancy Pelosi's drunk-driving husband Paul bought millions of dollars worth of computer chip stocks ahead of Tuesday's House vote to give billions in subsidies to chip manufacturers.
On Monday's evening news broadcasts, the story was completely ignored in favor of reports on the weather, and waves in Hawaii crashing over a beach wedding. ABC's World News Tonight, CBS Evening News, and NBC Nightly News all decided that Pelosi's husband's possible insider trading wasn't important news.
According to the Daily Caller News Foundation's Gabe Kaminsky, "Paul Pelosi purchased 20,000 shares of Nvidia, one of the world's largest semiconductor companies, on June 17, according to the speaker's disclosure report released Thursday."  
This came days before the House is set to vote on a bill Tuesday that would provide "billions of dollars in subsidies for the semiconductor industry and an investment tax credit to boost U.S. manufacturing", according to Reuters. 
Craig Holman, who is a government affairs lobbyist for the leftist think tank Public Citizen told Kaminsky that Pelosi's stock purchases "certainly raises the specter that Paul Pelosi could have access to some insider legislative information." He added that "this is the reason why there is a stock trading app that exclusively monitors Paul's trading activity and then its followers do likewise." 
In a statement Monday to Fox Business, Speaker Pelosi's spokesman Drew Hammill claimed: "The Speaker does not own any stocks.  As you can see from the required disclosures, with which the Speaker fully cooperates, these transactions are marked 'SP' for Spouse. The Speaker has no prior knowledge or subsequent involvement in any transactions." 
This bias by omission from the three networks was made possible by Ensure on ABC, Red Lobster on CBS, and Cadillac on NBC. Their information is linked so you can let them know about the biased news they fund.