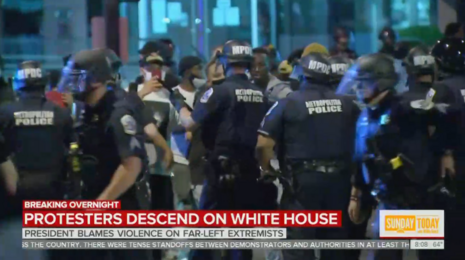 My former Reagan White House colleague Peggy Noonan, now long since a crack columnist for The Wall Street Journal, headlined her most recent column this way: 
Get Ready for an Election Crisis

Between bitter division and massive mail-in balloting, a normal vote would be a miracle.
In which, among other things, she says this: 
"Let's talk about the terrible time America might be in for in the days and weeks, maybe months, after the election.

It starts with what is known: On election night we probably won't know who won the presidency. The event we've been hoping would resolve things instead may leave them more mysterious. 

…It may be days or weeks before we know the mail-in results. Different states have different laws: Some count or certify mail-ins pretty much as they receive them and can report results with dispatch. Some begin to count mail-ins on Election Day. Few or none have ever been engulfed as they will this year."
She adds that because of a looming disparity in how Republicans and Democrats indicate they will vote — with the GOPers preferring in-person voting and the Dems mail-in ballots —  that:
"Because of this it's possible that on election night there could be what looks like a solid margin in favor of President Trump, especially in the states that will decide the election. Maybe it won't be a "red mirage," as it's been called; maybe it will signal a real and coming red wave. Or maybe a big blue one will swell. Again, especially if the outcome is close, we likely won't know for days or weeks.

The waiting will require patience and trust. That's not, as we know, the prevailing political mood. We are riven and polarized. "It is my greatest concern," Joe Biden has said. "This president is going to try to steal this election." Mr. Trump: "They're trying to steal the election from the Republicans."
So let's put the media cards on the table. If there is in fact a Trump win election night, no matter the size of his margin it takes no imagination to envision the hate-Trump electronic media from running story after story after story about uncounted Biden ballots, missing Biden ballots or suddenly discovered cache's of Biden ballots — all or any of which will be presented as capable of reversing the Trump victory to a Biden victory.
And in our current environment — where one liberal-run city after another has been exploding in the violence of burning, looting and shooting at police or Trump supporters? It takes no imagination at all to envision CNN, MSNBC, the broadcast networks - joined by the shrill front pages of The New York Times and The Washington Post - fanning the flames of this violence with one incendiary story after another, filling the airwaves with abject lies.
This, after all, was the go-to position after the 2016 election. Literally twenty-seven minutes after Trump was sworn in on January 20, 2017, The Washington Post was running this headline: "The campaign to impeach President Trump has begun." 
This gem of a story began this way: 
"The effort to impeach President Donald Trump is already underway.

At the moment, the new commander in chief was sworn in, a campaign to build public support for his impeachment went live at ImpeachDonaldTrumpNow.org, spearheaded by two liberal advocacy groups aiming to lay the groundwork for his eventual ejection from the White House.

The organizers behind the campaign, Free Speech for People, and RootsAction, are hinging their case on Trump's insistence on maintaining ownership of his luxury hotel and golf course business while in office. Ethics experts have warned that his financial holdings could potentially lead to constitutional violations and undermine public faith in his decision-making.

Their effort is early, strategists admit. But they insist it is not premature — even if it triggers an angry backlash from those who will argue that they are not giving the new president a chance."
Shortly thereafter the Trump-Russia collusion lie, conceived by angry Hillary Clinton staffers the day after the election, took flight.
In other words, the liberal media was off and running, with no divisive untruth too small to amplify as it stoked fear and hatred night after night after night, day after day after day.
With all of that now on record, as said, it takes no imagination to see what lies ahead if, on election night, the network chyrons are announcing a Trump victory.
Just as Peggy Noonan has predicted, it is entirely possible that there will indeed be a "terrible time" that  "America might be in for in the days and weeks, maybe months, after the election."
With the liberal media stoking the flames of that terrible time.
Buckle in.