Ed Schultz's lofty opinion that he's indispensable at MSNBC is apparently not widely shared at 30 Rockefeller Center.

Schultz responded angrily on his radio show yesterday to a New York Times story about the network that contained an eye-opening disclosure close to the end of the piece (audio clips after page break).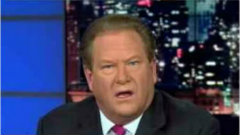 New York Times reporter Brian Stelter writes --
Several MSNBC employees, who spoke about programming plans on the condition of anonymity, said the most likely candidate for a new show was the Washington Post columnist Ezra Klein, a frequent substitute for (Rachel) Maddow. Mr. Klein may start with a weekend time slot, but these people said the 8 p.m. weekday slot held by Mr. Schultz was also a possibility.
Schultz wasted no time attempting to shoot down speculation brought about by the story (audio) --
Gosh, there's a lot going on, isn't there? (laughs) Ed Schultz being replaced at 8 p.m., not so fast! I just want, here's the first thing I want to say -- Brian Stelter, is that his name? Yeah, S-T-E-L-T-E-R. He's never talked to me. And if he were to talk to me, I would tell him that I have overperformed in my time period for the third quarter and on my way to do that in the fourth quarter of this year, which puts me in bonus territory. You know, money? I mean, that's how well we're doing at 8 o'clock. And so I, I, I have never interviewed with the guy, he's never called me or asked me anything. I see that Phil Griffin, the president of MSNBC, has put out a statement saying that, uh, you know, we're, we're OK! That there's no primetime lineup changes, let's see here -- a spokesperson for TVNewser this morning, let's see, "we're very happy with the performance of our primetime lineup, which topped Fox News Channel three nights this week. There are no changes planned." No changes planned! So I guess I'm on tonight?! I assume I'm on the rest of the week?! I assume that I'm on for as long as I can get you to watch! And this, in a sense, means that I guess I've arrived! (Alright, Mr. Griffin, I'm ready for my closeup).

And it also means that, you know, if somebody is telling Stelter that I'm going to be replaced, we know that his nose as a reporter doesn't sniff very well because he never called me and I'm probably one of the most accessible guys in the media! WeGotEd.com, hell, I'm easy to find! But it's just media garbage and I just want all of you to know that have listened to this radio show and have watched me on "The Ed Show" and evolved to where we are, they would have never put me at 10 o'clock and then moved me to 8 o'clock if they didn't think I could do it. And we just went through the best four months that we've had. And I think it's going to continue on and if it doesn't, who knows?! My contract is just fine and life is good.
For anyone familiar with Schultz's stormy tenure at MSNBC, Stelter's reporting did not come as a shock. Back in the summer of 2010, it was widely reported that an enraged Schultz threatened to "torch this f***ing place" over not appearing in network promos.
The following January, after liberals blamed harsh rhetoric from conservatives for the shooting rampage in Tucson, MSNBC responded by giving Keith Olbermann the boot and ordering Schultz to rein in the "Psycho Talk" segment on his cable show, if only temporarily.

Five months later, MSNBC suspended Schultz without pay for a week after he maligned conservative radio host Laura Ingraham on his radio show as a "right-wing slut" and "talk slut." Schultz claimed to have volunteered for the suspension, although it appears more likely he was given an offer he couldn't refuse.

Then last week, brimming with braggadocio in the wake of Obama winning re-election, Schultz implied that MSNBC didn't exist and wielded no influence -- until he showed up. This likely did not go over well at MSNBC, Mediaite's Jon Nicosia writes -- "Schultz had had run-ins with management before but most thought those episodes were old news. But a comment this past week where he seemingly takes credit for MSNBC's success probably didn't leave management and other MSNBC hosts particularly pleased either."

After denying Stelter's reporting was accurate, an increasingly testy Schultz said he wasn't a "latte liberal" from either coast and challenged Stelter to interview him. If Stelter agreed, Schultz said, he would share such interesting disclosures as the number of planes he owns. (more than Romney, Ed?) (audio)