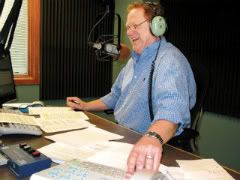 A question for frequent listeners of libtalker Ed Schultz's radio show -- ever notice how often he books the same guests?
Mark Graff, for example, founder of a company called Bio Green Clean, has come on the show 11 times -- in the last two months.
Or Ted Massinello, president of USA Coffee Company -- 10 appearances since March 23.
Radio host and legal analyst Norman Goldman dropped by six times in the last eight weeks. Lawson Nickol, co-founder of All American Clothing Company, made five appearances in the same period.
What do all have in common? They are advertisers on Schultz radio Web site, though you wouldn't know it if you went by the radio show alone and didn't go to the site.
That's because Schultz hardly ever tells his listeners that these guests are advertisers. Put another way, they are paying Schultz and appearing on his show. No wonder Schultz is shy about pointing that out.
In fact, 26 percent of Schultz's guests over the two months from March 23 to May 23 -- 41 out of 156 guest appearances -- have been advertisers on his radio site, according to my analysis. 
As described by me back in December, Schultz's advertising strategy appears to have emerged from a weekly segment he began in 2008, called "Recession-Busting Friday," in which Schultz reserved the final hour of his show at the end of the week for business owners to call in and pitch their products and services.
But the segment dropped by the wayside after Schultz's MSNBC show started in April 2009. Instead, Schultz radio site advertisers began appearing as guests with annoying frequency.
A rare example of Schultz telling his radio audience that a guest was an advertiser occurred on May 19, when gold salesman Craig Griffin of ITM Trading came on the show. 
The timing here was curious. Later that afternoon, MSNBC anchor Dylan Ratigan denigrated Glenn Beck as a "scumbag" for touting the company Goldline, as Beck does here. 
Did Schultz know Ratigan was going to do this, prompting Schultz to make his atypically candid disclosure?  At first glance, the timing is off -- Griffin was on Schultz's radio show around 2:30 that afternoon while Ratigan slammed Beck two hours later, according to my fellow NewsBuster Scott Whitlock.
That is, until one considers that Schultz usually broadcasts his radio show (and did that day, according to the announcer's lead-in) from the MSNBC complex at 30 Rockefeller Center in New York City -- where Ratigan also works.
Schultz and Ratigan both host cable shows at MSNBC. Is it a stretch to suggest that Schultz on any given day knows in advance who Ratigan (along with Matthews, Olbermann, Maddow, etc.) will book as guests and what they will talk about?