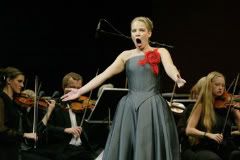 Did you know that Republican Senator Scott Brown of Massachusetts is "harassing" Rachel Maddow?
Depends, of course, on how you define harassment. Liberals like Maddow are inclined toward the most flexible definition possible, especially when directed at those of less evolved politics.
As far as Maddow is concerned, Brown is "harassing" her -- in other words, he's a criminal -- because Brown sent out a fundraising appeal mentioning Maddow as a potential challenger.  
Brown's pitch read --
Friends, It's only been a couple of months since I've been in office, and before I've even settled into my new job, the political machine in Massachusetts is looking for someone to run against me. And you're not going to believe who they are supposedly trying to recruit -- liberal MSNBC anchor Rachel Maddow.

Rachel lives in western Massachusetts, and recently it was reported that the chairman of the state Democratic Party  had apparently tried to reach out to her in an attempt to coax her into a race against me. You can read about it here. ...

... I relish being an independent voice in Washington, one that doesn't march in lockstep with the rest of the Washington crowd. The Democratic Party bosses in Massachusetts disagree. They want a rubberstamp who will vote for their plans to expand government, increase debt and raise taxes. Someone like Rachel Maddow. I'm sure she's a nice person -- I just don't think America can afford her liberal policies.

Rachel Maddow has a nightly platform to push her far-left agenda. What about you? ...
To her credit, Maddow's initial response on her show this past Tuesday was irreverent. "For the first and probably the last time, I hereby recuse myself from hosting this segment," Maddow announced near the end of the show, whereupon she switched seats with her producer, Bill Wolff, for a tongue-in-cheek interview about her non-candidacy. Good times!
But when Maddow revisited the issue the following night, Brown had clearly gotten under her skin. "So Senator Scott Brown is using a rumor, a rumor he didn't even bother to check to see if it was true, to try to scare people into giving him money. Turns out he is sending this to out of state conservatives. He's using, as the lawyers say, my name and likeness to raise money for himself. Which would be flattering if I were actually running against him. But since that is completely made up, it feels more like it's just gross and harassing."
Gross and "harassing" -- you know, as the lawyers say.
On Thursday night, Maddow reverted to irreverence, harping on the inconsequential tempest with a mock attack ad against her that ended with Maddow made up to resemble Heath Ledger's Joker.  Three segments in as many nights, during what many observers consider a fairly consequential era. This from the serious one over at MSNBC.
Even then, Maddow was hardly finished. On Friday MSNBC ran a full-page ad in the Boston Globe in the form of a letter from Maddow to Massachusetts residents (based on the apparent presumption that even here in Taxachusetts, few people watch MSNBC).
"I'm not running against Scott Brown," Maddow wrote. "I never said I was running against Scott Brown. The Massachusetts Democratic Party never asked me to run against Scott Brown. It's just not true. Honestly. I swear. No, really."
Naturally for Maddow, she couldn't go the entire missive without a demonstrable falsehood."Do you remember when Mitt Romney ran for President after being our Governor and he went around the country insulting Massachusetts, talking about what an awful state we are?" Maddow wrote. "To have our new Senator raising money around the country by saying how *terrible* one of his Masssachusetts constituents is, kind of feels the same way to me."
Correction -- Romney did not insult Massachusetts during the '08 campaign (and I live here too, Ms. Maddow) -- he insulted Massachusetts liberals, a beloved pastime among Northeast conservatives. Helps pass the time during our long winters.
Hard to believe but Maddow took another bite at this overripe apple last night, complaining again about that mean Scott Brown and how he never writes, he never calls. Maddow brought viewers up to speed on the sturm und drang, brandishing her Globe newspaper ad and saying "I tried to do a robocall to Massachusetts voters debunking the rumor" but was told, sorry, "it turned out to be against MSNBC rules." (such that they are)
Maddow cited reports quoting Brown spokesman Eric Fehrnstrom saying, "It was an open secret that the Democrats were trying to recruit Rachel Maddow to run against Scott Brown in 2012."
To which Maddow responded, "OK, it was so secret it was secret both from me and from the Massachusetts Democratic Party. I want Scott Brown to stop telling people I'm running against him. I want him to stop telling people that Democrats have tried to get me to run against him. I want him to stop raising money off these lies that he keeps telling about me and Massachusetts Democrats. I want him to retract this fundraising letter."
Wouldn't hold your breath, Ms. Maddow, seeing how Massachusetts Democrats have tried to get you to run against Brown. Fact is, they still are, as shown by this Facebook page pushing Maddow to challenge Brown in 2012.
Created on March 2, the page describes itself thus -- "A group of citizens from Massachusetts who think Rachel Maddow would make a strong and articulate candidate for the US Senate in 2012. This group is unaffiliated with, and not authorized by, Rachel Maddow. We're trying to put this idea in her head, and create a buzz that Massachusetts needs a progressive voice, again, in the Senate, such as hers."
Just a hunch, but something tells me most of the page's 4,048 members aren't Republicans and tea partiers. Turns out one of two administrators for the page is a Northampton, Mass.-based radio host named Bill Dwight, a guest host for Maddow back when she was on Air America Radio.  
And let's not forget Mass. Democratic Party chairman John Walsh getting involved, to the extent he is. On March 6, within days of the draft Maddow for Senate Facebook page going up, Walsh sent this cryptic Twitter tweet intended for recipient still unknown. "Some are talking about you running vs Scott Brown in '12. I'm chair of MA Dem Party," Walsh wrote, followed by his email address and cell phone number.
Walsh followed with another tweet within two hours, signaling that the first was sent to a wider audience than intended. "Oops. You caught me doing me job," Walsh wrote. "All is fair, so I'll tell you who once I get to 1000 followers. Spread the word. ;)"
Who knows, maybe Walsh was trying to persuade Maddow not to run, assuming that's who he was trying to contact. "All manner of quips and theories have emerged," read a March 8 Boston Herald story on Walsh's tweet (yes, a news story on Twitter blurb), "including that the note was meant for liberal television host and Bay State resident Rachel Maddow -- a logical leap given that the MSNBC star is being encouraged to run by fan groups on another social networking site, Facebook. It also appears Maddow began following Walsh's Twitter feed on Friday, shortly before his posting." 
As of this morning, Maddow's whining had grown so tiresome that even the left-leaning Boston Globe, despite that profitable full-page ad run by MSNBC, was chastising her and Brown.
In an editorial titled "Brown vs. Maddow: The feud that isn't," the Globe described the contretemps as "a lot of hot air designed to serve the needs of the two principals: Campaign cash for Brown, a ratings boost for Maddow. Any umbrage is unwarranted and undeserved; serious readers will be excused if they just stop here."
Yes, the Globe wrote, "Brown took advantage of a Facebook site touting the liberal talk-show host as his potential Senate challenger to try to scare conservatives into ponying up cash. No one's being exploited here. Brown's donors are presumably accustomed to the campaign-finance racket in which candidates try to rattle their supporters into opening their wallets. Too bad for Brown that Barbra Streisand, Dan Rather, and Jane Fonda don't reside in Massachusetts; he could probably scare up a lot more dough spreading rumors about them."
"Maddow, however, took out a Globe ad to chide Brown, declaring that he should 'think twice the next time he wants to smear one of this constituents ...' But where's the smear? The letter says nothing bad about her, and the notion that a talk-show host might join the Senate is hardly an insult."
At least when Maddow's MSNBC colleague Ed Schultz was seen as a potential Senate candidate in North Dakota, Schultz had the good sense to say he was flattered. Not Maddow. She's too busy playing maligned diva.