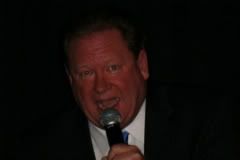 Back in the summer of 2003, members of the Wellfleet Harbor Actors Theater on Cape Cod sponsored a public forum with the memorable title, "Dissent=Democracy: A Teach-In on the 'New McCarthyism' ".
Speaking as panelists were historian Howard Zinn, authors Norman Mailer, Sebastian Junger and Marge Piercy, actor and playwright Eric Bogosian, director Andre Gregory and other left wingers. The event was organized by Jeff Zinn, son of Howard and a director at the Wellfleet theater.
Yet for a public gathering devoted to "dissent" and one equating it with democracy, something was conspicuously absent when it came to the panel -- dissenters.
Here's how it was described in a story that ran in the Cape Cod Times on Aug. 8, 2003 --
The high-wattage panel of writers, artists and performers (Jeff) Zinn pulled together for the forum, the proceeds from which benefit the theater, purposely does not include people from the political right.

"They've got their own forums," Zinn says. "I'm not required to provide balance; I'm not PBS."
Oh but you are, Mr. Zinn, more than you know. I so wanted to attend the "teach-in" (stay within the lines!) but couldn't find a barf bag of sufficient capacity to get me through all that consensus.
I was reminded of this example of liberal hypocrisy on Monday while listening to radio host Ed Schultz, the top-rated "progressive" talker in the country. Schultz is getting annoyed with Democrats he sees as too willing to cave to Republicans, such as Obama including tax cuts in his stimulus plan.
Expressing his irritation, Schultz said more than probably intended in describing how Democrats should govern --
Look, I'm just getting a sense that Democrats are afraid to be Democrats right now. They're afraid to tell Republicans that, you know, you can be in the meeting but shut up.
So much for being the party of inclusion. Agreed, not as priceless as excluding dissenters from a forum on dissent, but still, it's up there, and likely to resonate with anyone who's worked with similarly overwrought liberals.
Schultz often describes his show as "Where America Comes to Talk" and boasts of allowing people with all points of view to call in. But he often becomes bellicose and shouts at callers if they aren't receptive to his point of view. In other words, welcome to the meeting -- but shut up. Such an approach toward diversity of opinion is barely distinguishable from telling people of a different skin hue to sit at the back of the bus. And those deserving of the Schultz approach to governing represent, let's see, just under half the electorate.
Liberal media darling Rachel Maddow engages in a similar practice, such that she'd have been snug as a bug at the dissenter-free forum on dissent. When Maddow's MSNBC cable show began in September, it was refreshing to see conservatives appear as guests -- since Maddow rarely shares a microphone with them on her Air America Radio show.
Between the premier of Maddow's MSNBC show on Sept. 8 to the election on Nov. 4, conservatives or Republicans appeared 17 times, including seven by fellow MSNBC analyst Pat Buchanan. Others included Libertarian candidate Bob Barr, Matt Continetti of The Weekly Standard, Republican congressmen John Culberson of Texas and Steve King of Iowa, former Bush speechwriter David Frum, and Minnesota Gov. Tim Pawlenty.
But since the election, with Maddow apparently unburdened of the journalistic obligation for balance or even its facsimile, right-of-center guests have appeared all of three times on her MSNBC show -- former Rhode Island Senator Lincoln Chaffee on Nov. 5, Mike Huckabee on Nov. 20 and Buchanan on Dec. 17, nearly a month ago.
The demarcation may not have been the election, however. More likely it was this contentious exchange between Maddow and Frum on Oct. 13. In the two weeks that followed, only a single conservative guest appeared at her TV show, the ubiquitous Buchanan. 
Maddow shows a similar aversion to callers on her radio show, going through all manner of machination to avoid them. In the spring and summer, Air America Radio host David Bender sat in for Maddow in the third and final hour of her show while she was called to frequent pundit duty on MSNBC's "Race for the White House." For reasons that defy explanation, Maddow would not take calls during the first two hours of the show but Bender would during the last hour. 
The likelihood of Maddow dealing with questions out of right field from callers has diminished further since her MSNBC show began in September. Maddow's radio program shrank by an hour -- and the second hour is a rebroadcast of Maddow's MSNBC show from the previous night.
Not that any of this bothers Maddow's admirers, as shown by their year-end tributes in praise of her rapid ascension. One of the compliments I hear most frequently about her is that Maddow doesn't shout at her guests and treats them with civility.
Which is true -- unlike those bearish types over at Fox News arguing with guests whose opinions they don't share, thereby running the risk of viewers learning something in the exchange.