UPDATE: On the June 14 edition of ABC's Good Morning America, co-host Amy Robach interviewed Hunter Biden's ex-wife Kathleen Buhle in a 6 minute, 50 second segment about her new memoir. (See below)
UPDATE: CBS Mornings interviewed Buhle on June 16 for 8 minutes, 5 seconds. (see below)
The scandalous hits from Hunter Biden keep coming, but you wouldn't know it if you get your news primarily from the Big Three (ABC, CBS, NBC) broadcast networks. 
From very serious allegations of corruption that that could hurt President Joe Biden's credibility (Hunter's business partners visiting the White House) to the kind of salacious headlines that would dominate the news cycles if this was a son of a Republican president (Hunter allegedly cavorts around with an illegal gun while with a hooker) the nets have been completely silent.
The lack of Hunter scandal coverage is something NewsBusters has been tracking on almost daily basis since March 16, when the New York Times finally confirmed that Hunter's laptop is real and not an example of "Russian disinformation." If the liberal broadcast networks were waiting for an all-clear to admit the explosive Hunter Biden laptop story (that was first broken by the New York Post way back on October 14, 2020) was real and legitimate, that was it. That still hasn't spurred them to cover the wayward son's mischievous and criminal activities that could hurt the Biden administration. 
The following are just a FEW of the Hunter scandals that have been revealed since March 16 and how ABC, CBS and NBC have covered or, more accurately, not covered them:
Hunter Biden Allegedly Caught on Video with Hooker While Brandishing Illegal Gun 
On June 6, RadarOnline reported the following: 
A brazenly nude and drugged-out Hunter Biden has been caught on video recklessly messing around with a handgun and pointing it at a camera all while he cavorts with a prostitute, RadarOnline.com can exclusively reveal.

The trainwreck son of President Joe Biden allowed himself to be taped in a sickening and dangerous sexual game of role-play on October 17, 2018.

In two separate photos, Hunter is seen with one hand on the trigger of the gun and his other hand cupping his penis and pelvic area. In a third image, the remnants of what appears to be crack cocaine can be seen on a plate alongside used and packeted condoms, along with drug paraphernalia and a spoon believed to be used to smoke the illicit drug.

What's even more disturbing is that these sordid photos were captured in 12 days of madness during which the Biden family tried to dispose of the illegally obtained weapon on the streets of Wilmington, Delaware — across the street from a high school. Last year, it was revealed Hunter had purchased a gun illegally in 2018 and failed to disclose he had a drug problem.
…
In evidence that will be seized upon, the images will also likely be used to ask questions such as how Hunter was able to purchase the firearm despite government records showing that he was discharged from the U.S. Navy Reserve for drug use.
ABC, CBS, NBC evening and morning show coverage: 0 seconds
President Joe Biden Refuses to Provide Secret Service Protection to Hunter's "Love Child"
On June 6, The Daily Mail reported the following: 
Callous Joe Biden is refusing to provide protection for his son Hunter's lovechild despite the little girl and her mom becoming entangled in a terrifying harassment case. Lunden Roberts, 31, claims her cage fighter ex-fiancé Princeton Foster bombarded her with threats and made frightening comments about three-year-old Navy Joan, the daughter she shares with the First Son.

The single mom called cops last month alleging that Foster, 27, punched a dent in her car and slashed the wires to her security cameras after turning up at her Arkansas home in the middle of the night. She also filed for a protection order, claiming the amateur fighter told her he was 'going to heaven' with Navy Joan, referring to the angelic, blond-haired youngster as his daughter despite having no biological link to her.

DailyMail.com understands that President Biden has been 'made aware' of Roberts' ordeal and the alleged threat to his granddaughter – who bears a striking resemblance to a young Hunter.

But so far the world's most powerful man has declined to intervene or even reach out to see if the little girl is OK, according to a close friend of Roberts, who put on a brave face Thursday as she and Navy Joan were spotted playing tee ball in their local park. 

'The President frequently talks about his love and pride for his grandchildren. But if he really cared for every member of his family he would have done something by now,' the pal told DailyMail.com.

'The Secret Service would act at the drop of a dime if someone threatened any of the other Biden kids – but it's like Navy Joan doesn't matter.' Roberts won a reported $2.5 million settlement from former flame Hunter after taking him to court in 2019 and forcing him to take a DNA test that proved Navy Joan was his.
ABC, CBS, NBC evening and morning show coverage: 0 seconds
Suspicious: One of Hunter's Callgirl Friends Landed a $20,000 PPP Loan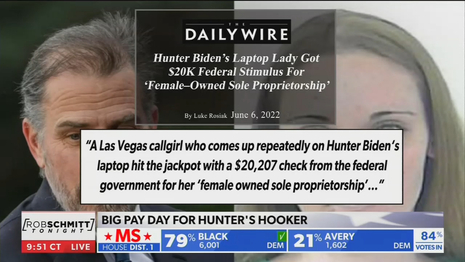 On June 6, The Daily Wire reported the following: 
A Las Vegas callgirl who comes up repeatedly on Hunter Biden's laptop hit the jackpot with a $20,207 check from the federal government for her "female owned sole proprietorship" shortly after her well-connected client's father moved into the White House, according to federal records.

The check Uncle Sam cut to Cheryl Deboves was part of the coronavirus Paycheck Protection Program (PPP) bailout, and she listed it as saving one job in the field of "Independent Artists, Writers, and Performers." But unless she changed professions after President Joe Biden's troubled son abandoned his laptop in a Delaware computer repair shop, her writing and performing was hardly worthy of taxpayer subsidy.

"Honestly babe the problem is you have too many girls there," she wrote in one August 2018 text to the younger Biden. "I understand you like a lot of girls but that's fine do one at a time at the tops to Which is fine but just hire the second girl for like 1 hour."

Other text exchanges between Hunter Biden and Deboves, who had pled no contest to a charge of prostitution in November 2017, are wildly inappropriate for a family-friendly news site and revolve around sex, partying, and drug deals gone awry.…

On April 7, 2021, shortly after Joe Biden was inaugurated, Deboves received the $20,207 Paycheck Protection Loan. The loans are generally forgiven, hence amounting to a grant. The PPP program was intended to help businesses retain jobs in the face of the coronavirus pandemic. Debove's loan went to her individually rather than to a business, noting that it was a "female owned" sole proprietorship.

Deboves could not be reached for comment.
ABC, CBS, NBC evening and morning show coverage: 0 seconds
Joe Biden Sanctions Russian Yachts In Wake of Ukraine War But Hunter-Linked Oligarchs Not Included
On June 2, the New York Post reported the following: 
President Biden unveiled new sanctions Thursday targeting influential Russians and President Vladimir Putin's yachts on the 99th day of Moscow's invasion of Ukraine — but two oligarchs linked to his son Hunter Biden again were spared.

The slow rollout of sanctions comes despite the president threatening "swift and severe" penalties ahead of the invasion, which began Feb. 24.

New US-targeted individuals include the steel and gold-mining oligarch Alexey Mordashov, Putin-linked money manager Sergei Roldugin, billionaire property developer God Nisanov, electronics executive Evgeny Novitsky, banker Sergey Gorkov and Russian Foreign Ministry spokeswoman Maria  Zakharova. The Treasury Department also sanctioned two yachts that Putin allegedly co-owns and the Monaco-based yacht brokerage Imperial Yachts and its Russian CEO, Evgeniy Kochman.
…
It remains unclear why Hunter Biden's alleged Russian business associates — the billionaire oligarchs Yelena Baturina and Vladimir Yevtushenko — eluded the latest round of US sanctions against members of Russia's business elite.

Baturina, whose wealth derives largely from construction, in 2014 paid a firm associated with Hunter Biden $3.5 million, according to a 2020 report written by Republican-led Senate committees. She is the widow of former Moscow mayor Yury Luzhkov, and documents from Hunter Biden's laptop indicate she may have attended a 2015 dinner in DC with then-Vice President Joe Biden.

Yevtushenkov, who owns a nearly 50% stake in Russian conglomerate Sistema — which has telecom, retail, banking, food and health interests — faces UK sanctions over Russia's invasion of Ukraine, but hasn't yet been targeted by the Biden administration. He met with Hunter Biden in 2012 at Moscow's Ritz-Carlton hotel, but recently claimed they had no subsequent contact.
ABC, CBS, NBC evening and morning show coverage: 0 seconds
Hunter Uploaded His Own Videos to Porn Site, Texted Link to Phone Listed In Contacts as "Dad" 
On June 1, The Daily Mail reported the following: 
Hunter Biden's search history reveals an obsession with porn including incest fantasies, '18yrs old', 'lonely widow' porn, 'MILF crack cocaine porn', as well as instructions on how to hack a lover's cell phone and repeated google searches of himself. The list of searches covers just six days in March 2019 before he broke his laptop, took it to be repaired a Delaware shop, and then abandoned it. But it is packed full of revealing and disturbing websites.

Dozens of videos on the laptop also reveal Hunter's penchant for filming himself having sex with prostitutes and posting the home movies on his own Pornhub account under the username 'RHEast'.

The president's son took care not to show his face in his uploaded videos. Of the 281 websites captured in his browsing history over six days, 98 were pornographic.

Shockingly, Hunter texted a link to a Pornhub page to a phone number he had saved in his contacts book as 'Dad' on October 22, 2018. However, other texts show he and Joe Biden used each other's phone numbers at various times, so it is unclear whether the president was using that number at the time. 
ABC, CBS, NBC evening and morning show coverage: 0 seconds
New Details Emerge About Hunter's Affair with the Widow of His Dead Brother [UPDATE]
On June 1, The New York Post reported the following: 
Hunter Biden began a scandalous affair with his late brother's widow after a marriage counselor recommended that they spend time "grieving" together, his ex-wife reveals in her forthcoming memoir.

Following the tragic brain cancer death of Beau Biden in May 2015, Hunter Biden began working "to set up the Beau Biden Foundation with Hallie [Biden] and his parents," excerpts from Kathleen Buhle's "If We Break," published Wednesday by People magazine, reveal.

"But he started spending most of his time at Hallie's house. Our therapist told me Hunter needed to be up there, helping Hallie," Buhle, 53, recalls.

"'But what about his sobriety?' I asked her. 'He needs routine. He needs to be home with us.'"

The counselor, however, "held firm that being with Hallie and her kids was an important part of Hunter's grieving," Buhle writes.

Buhle threw Hunter Biden out of their house after finding a crack pipe in an ashtray the following summer — and after his admission that he'd cheated on her with prostitutes while traveling abroad as part of his controversial overseas business dealings.

In "If We Break," set for release on June 14, Buhle also details how she learned about her husband's illicit romance with Hallie Biden after their daughters discovered shocking text messages between them on his cellphone.
ABC, CBS, NBC evening and morning show coverage: On the June 14 edition of ABC's Good Morning America, co-host Amy Robach interviewed Hunter Biden's ex-wife Kathleen Buhle in a 6 minute, 50 second segment about her new memoir. CBS Mornings' Anthony Mason interviewed Buhle about her memoir on June 16 for 8 minutes, 5 seconds. NBC has yet to mention the Buhle memoir.
Hunter's Business Partner Visited the White House 19 Times 
On April 23, the New York Post reported the following: 
Hunter Biden's closest business partner made at least 19 visits to the White House and other official locations between 2009 and 2015, including a sitdown with then-Vice President Joe Biden in the West Wing.

Visitor logs from the White House of former President Barack Obama reviewed by The Post cast further doubt over Joe Biden's claims that he knew nothing of his son's dealings.

Eric Schwerin met with Vice President Biden on November 17, 2010 in the West Wing, when he was the president of the since-dissolved investment fund Rosemont Seneca Partners.

The logs also reveal that Schwerin met with various close aides of both Joe and Jill Biden at key moments in Hunter's life when he was striking multi-million dollar deals in foreign countries, including China. Yet President Biden has long insisted he had no involvement in his son's foreign affairs. "I have never spoken to my son about his overseas business dealings," he said in 2019.

 "Not everyone gets to meet the Vice President of the United States in the White House. The press should be asking why Hunter Biden's business associates — like Eric Schwerin — had that privilege and were given access to the Obama White House," said Sen. Ron Johnson (R-Wisconsin). "This is additional evidence that Joe Biden lied when he said he never discussed Hunter's foreign business dealings. It's well past time for the corporate media to demand the truth from Joe Biden. The corruption of Biden Inc. must be exposed."
ABC, CBS, NBC evening and morning show coverage: 0 seconds
Now just imagine a similar stretch of events but it involved Donald Trump Jr. and not Hunter Biden. ABC, CBS and NBC would have wall-papered their programming with those scandals. If President Biden was a Republican, the nets would have hung Hunter around his neck like an anchor. Instead they've all but scrubbed Hunter's name from their airwaves all to save the Biden administration from having to patch yet another hole in their sinking ship of an administration. 
For this study MRC analysts looked at the ABC, CBS, NBC evening and morning shows and their Sunday roundtable programs from March 16 through the morning of June 8.