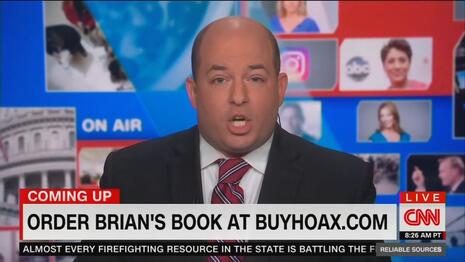 On Sunday's Reliable Sources, CNN charlatan, far-left hack, and Fox News-stalker Brian Stelter spent three segments hawking his now-released book Hoax, which appears to serve as an extension of his visceral hatred for Fox News Channel and painting it as an existential threat to not only the free press, but America itself.
However, when it comes to the ratings for last Sunday's show, viewers couldn't care any less. According to Nielsen Media Research, FNC's MediaBuzz trounced Reliable Sources by 30 percent in the 25-54 demographic and 67 percent in total viewers. That, folks, was what one would call a blowout.
Sad!
Low ratings are a very on-brand trait for a citizen of Zuckerville, along with the fact that he's enjoyed his litany of interviews on both CNN and fellow liberal network MSNBC.
But wait, there's more! As of this post's publication, MRC VP for media and publications Brent Baker had over 588,000 views for his video tweet of Stelter making the case for TV networks to muzzle portions of the RNC (despite the fact they aired massive chunks of the DNC).
Meanwhile, Nielsen had Stelter's ratings at one million total viewers and 218,000 in the demo, so Baker already got more views for a video tweet on his account of 4,100 followers than Stelter in the demo and over half as much as his total viewers.
The ratings get even worse after examining them week-to-week and year-to-year. For the man Greg Gutfeld has dubbed America's hairless hall monitor and employs as conservative media's Benedict Arnold (Oliver Darcy) as a sidekick, they're not great.
While Stelter has the adoration of media types like The Washington Post columnist Margaret Sullivan (who has a Jen Rubin-like hatred for news outlets that she disagrees with), viewers haven't been interested in his campaign to run Fox News either off the air or into submission.
Stelter's self-promoting episode marked a nine percent drop from the previous Sunday in the 25-54 demographic and five percent overall. As for year-to-year, Stelter's ratings fell 14 percent, but were even worse in total viewers with a 22 percent tumble.
So, while Stelter enjoys the spotlight of his own echochamber that's thirsty to see Fox News fail (and any outlet that conducts itself differently than CNN's biased, churlish, condescending, and vengeful attitude), regular Americans want nothing to do with him.
Stelter's latest anti-Fox powwow was made possible advertisers such as Amazon, Jaguar, Prevagen, United Health Care, and the UPS Store. Follow the links to the MRC's Conservatives Fight Back page.