[Excerpted from Collusion, by Brent Bozell and Tim Graham]
The most effortless dirty trick in the liberal-media playbook in 2012 was painting Mitt Romney anywhere and everywhere as an uptight white gazillionaire, a man who was running for president to boost the profits and ego of his own social class. What really took chutzpah was the other half of the equation: boosting Barack Obama as a populist as he hobnobbed with the richest and most famous elites in Hollywood. Anonymous rich people make better villains than some of the most beloved names in show business.
After the election cycle was over, the Center for Responsive Politics reported that 220 "celebrity" donors had given Obama's campaign $744,857, while only 18 comparable "celebrity" donors gave Romney a total of $60,750. That's a more than 12-to-1 financial disparity. Through 2011 and 2012, Obama outraised Romney from what the Center called the "TV/Movies/Music" industry, by nearly 5 to 1, with Obama raising $6.39 million to Romney's $1.27 million.
These numbers exclude the entertainment industry bundlers who collect money from friends, relatives, and business associates and combine it into one gift. Obama bundlers throwing splashy events included not just movie moguls like Jeffrey Katzenberg and Harvey Weinstein. There was imperious Vogue magazine editor Anna Wintour—who inspired the novel and movie The Devil Wears Prada —as well as Glee creator Ryan Murphy and rock singer Gwen Stefani. Now the Hollywood-generated contributions were in the tens of millions of dollars – and still there was more.

Bill Maher, Super Flack
These figures did not count how Obama's Super PAC "Priorities USA" reveled in three very large Hollywood donations: $2 million from DreamWorks mogul Jeffrey Katzenberg, $1 million from actor Morgan Freeman, and $1 million from Bill Maher, the toxic, atheist bomb-thrower with his weekly Real Time show on HBO. Maher didn't just give at "the office" by trashing Republicans on pay-cable TV. He brought a large check onstage during a standup comedy performance in San Jose on February 23 – and none of the networks cared. They could ask if Donald Trump was going to embarrass and distract from Romney, but they wouldn't make that connection with a bigot like Maher and Obama.
Just days before, all three networks rang the national alarm bells over how "far to the right" Republicans were tilting when Santorum Super PAC backer Foster Friess had repeated a very old, and equally innocent, joke about Bayer aspirin being used as birth control. Nobody would warn about the Democrats being stuck with a hard-edged atheist image for standing with God-hating Bill Maher, the guy honored for saying "religion must die for humanity to live." But this assault on humanity by Friess must be denounced!
On CBS This Morning, cohost Charlie Rose demanded that Santorum defend himself over the Friess joke. Nobody at CBS asked Obama about Maher, including Charlie Rose. Indeed, it was worse than that still. A few weeks later, CBS This Morning cohost Erica Hill reported that "comedian Bill Maher writes in the op-ed page of The New York Times, we've become too sensitive in referring to this year's nasty political campaign. Maher writes, quote, 'When did we get into our heads that we have the right never to hear anything we don't like?'"
The news media were not just shutting out conservative speech or tough questions they didn't like, they were questioning the very right to hear conservative speech.
CBS did not report it when Fox News analyst Kirsten Powers and her friend Penny Lee wrote a letter to the editor published in the Times replying to Maher: "We're both women who have worked in Democratic politics and the media for decades and find Bill Maher's misogynist treatment of women candidates deeply disturbing. While others have been held to account for their sexism, Mr. Maher remains unrepentant for his attacks on women in public life. . . . Our message to Mr. Maher and his ilk is: Please start apologizing." (Italics theirs)
Incredibly, in May, ABC's George Stephanopoulos claimed on his Sunday show This Week (over Laura Ingraham's scoffing) that "the President's been held accountable for Bill Maher." In September, Maher became the star of a strange segment on NBC's Rock Center, that attacked not Maher, but Maher's critics, including media watchdogs.
We were a bunch of lowlife "gaffe-seekers." Ted Koppel announced, "Comedian Bill Maher has always been a favorite target of Bozell's, but especially since he made a one-million-dollar contribution to a Super PAC supporting Barack Obama." Koppel conjured up the vision of busybodies at groups like the Media Research Center "sitting their with headsets . . . watching television sets . . . waiting for someone to make a misstep." Maher replied: "Gaffe seekers." Koppel injected: "Any little gaffe they can find."
This amazing indictment came after more than a year of liberals leaping on any gaffe or pseudo-gaffe from Republican candidates (and even their donors!) that sounded too conservative, too religious, too Republican, or too rough on Obama. Koppel didn't run any of Maher's gaffes, of course, just one joke: "I love this generation of Republicans. Their approach to a woman's body is the same as their approach to the economy. They have no idea how it works, but they're eager to screw with it anyway."

Obama Boogies Down to Tinseltown
In late September, just days before "Occupy Wall Street" became the latest media fad among liberals, President Obama landed in Southern California for three events: one at the ritzy La Jolla home of Elizabeth and Mason Phelps; a gay event at the House of Blues in West Hollywood with ABC Modern Family star and gay activist Jesse Tyler Ferguson; and then a $17,900-a-plate dinner with one hundred top Hollywood bigwigs at Fig & Olive restaurant on Melrose Place, including Jack Black, Judd Apatow, Quincy Jones, Danny DeVito, and Rhea Perlman. This was Hollywood's One Percent, wealthier and far more famous than most of Romney's corporate one-percenters. So how was Obama not at least as elitist as Romney?
On October 24, 2011, Obama warned guests at a $35,800-a-person Hollywood fundraiser (including actor Will Smith and former NBA star Magic Johnson) stating that "[t]he election will not be as sexy as the first one." In 2008, "everybody loved the Hope posters and all that, but this time, we've got to grind it out a little bit." The same night, Obama grinded it out at a $5,000-per-ticket fundraiser at the home of Melanie Griffith and Antonio Banderas.
On the twenty-fifth, The Hollywood Reporter relayed the president had a "secret meeting" with "some of Hollywood's power players," including studio mogul Harvey Weinstein, Modern Family creator Steve Levitan, Atlantic Records chairman Craig Kallman, actor and onetime Obama White House staffer Kal Penn, and others. It was reported to be a "casual affair with 'influencers' who could help the president's reelection campaign."
Then he flew to San Francisco for a $7,500-a-head fundraiser with entertainment by mellow pop singer Jack Johnson. Interestingly, about a hundred protesters from Occupy Wall Street and other leftist causes like medical marijuana and "peace" marred the event—they apparently were not buying this populist nonsense -- but the national media didn't notice. Only Fox News reported how the San Francisco Chronicle published a surprising staff editorial protesting the tight leash on the media, using the darkest left-wing bugaboo, Nixon: "If anything, there's almost a Nixonian quality to the level of control, paranoia, and lack of credibility this White House has demonstrated on the issue of media access to President Obama's fundraisers."
But the Obama-loving media, always slashing the unfavorable news out of their scripts, ignored this. On Tuesday morning, NBC news reader Tamron Hall reported only that the president "continues his West Coast swing with a fund-raiser tonight in San Francisco. On Monday in Las Vegas, he unveiled his plan to help struggling homeowners modify their mortgages and avert foreclosure."
Obama the Populist marched on.
---
On the next morning came a doozy. After showing clips of Obama joking around with Jay Leno, NBC Today cohost Ann Curry somehow turned this glitz-elite fundraising venture into a populist campaign in a question to David Gregory: "Why is the president making this populist effort now out West, on Leno, reaching out to college graduates, and will it give him the momentum he needs?" Gregory reassured her Obama was leading every Republican contender.
In mid-February, Obama attended a $35,800-a-person fundraiser at the home of Bradley Bell, who produces the CBS soap opera The Bold and the Beautiful, with more middle-class guests having an option to attend a Foo Fighters concert in Bell's backyard early in the day for $250. The location was in the Holmby Hills, which local real estate agents tout as "perhaps the most spectacular and luxurious in all of Beverly Hills."
Again, there were Occupy protesters, this time at Will Rogers Memorial Park. The Patch.com website in Beverly
Hills quoted the outrage of Nicole Steiner of Occupy Los Angeles: "That money could be spent far better on the human needs of the 99 percent instead of allowing one-percenters to buy a dinner with the president." Steiner complained that for the nearly $36,000 donors were bringing to Obama they could buy dinners for seventeen thousand people at area food banks. A story for an Internet blog – okay. A national television or print story? Forget it.
On CBS This Morning, reporter Bill Plante obediently omitted the CBS-soap-mogul details: "His Republican rivals are continuing their long drawn-out battle much to the delight of the President's campaign folks. And the President today heads out to do a little fundraising. Now, this comes just a week after his campaign reversed course and said that it would encourage those large unlimited donations to a Super PAC." Then Plante added that the White House was delighted with the latest CBS poll numbers.
"A little fundraising." That's like saying Michelle does "a little vacationing."
That evening, NBC anchor Brian Williams put more emphasis on Obama's attempt to link himself with economic success stories: "President Obama was in the Midwest today, as well, visiting a Master Lock plant in Wisconsin that has brought some overseas jobs back to the United States. The president pitched his ideas for tax cuts for manufacturing businesses and penalties for companies that move jobs out of the country." The glitzy fundraisers were a tiny footnote, an afterthought: "Tonight he's on a fundraising tour of the West Coast, eight separate events from L.A. to Seattle."
On May 10, the Obama campaign raised $15 million in a fundraiser at George Clooney's mansion. This occasion drew network attention, but it wasn't negative., ABC's Jake Tapper called it "Starmageddon." NBC anchor Brian Williams said Obama hoped "to capitalize on the history he made yesterday" by announcing his support for gay marriage.
Over on CBS, reporter Bill Whitaker turned the event around on Romney: "A-list actors and producers arrived in style," he announced, and interviewed director Rob Reiner. "He says Hollywood progressives who helped put Mr. Obama in the White House, grew disillusioned with him for too often buckling under Republican pressure—but turned off by the hard-right rhetoric of Republican Mitt Romney, and turned on by the President's endorsement of same-sex marriage, Hollywood's excitement has been rekindled."
It's amazing that TV reporters can let Hollywood liberals attack moderates like Mitt Romney as the "hard right." Where does that put Rob Reiner on the American ideological spectrum? This denounce-the-extremes tactic was a habit of Reiner's: on HBO's Real Time with Bill Maher in 2010, he complained, "My fear is that the Tea Party gets a charismatic leader, because all they're selling is fear and anger and that's all Hitler sold."
The morning show also ran a clip from The Daily Show, in which Jon Stewart asked if the mood was positive at Clooney's house. Jason Jones replied: "Has it been positive? President Obama is at a giant Hollywood party the night after he came out for gay marriage. This is like going to Israel after you kill Hitler."
That evening, CBS anchor Scott Pelley was joyous: "Well, there are no money troubles in the presidential race. Last night President Obama raised a record $15 million at a fund-raiser at the Los Angeles home of actor George Clooney." All this came in the same news cycle in which Romney was fending off the prep school anti-gay/bullying/haircut non-story published by The Washington Post. Any elitist overtones of Clooney's event were lost in the shuffle.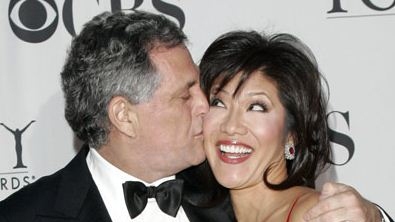 On June 6, a Beverly Hills fundraiser drew famous faces from CBS: Les Moonves, the company CEO, and his second wife, Julie Chen, who was a CBS morning news host from 1999 to 2010. Moonves told a reporter for the Los Angeles Times of his respect for Obama, who he said "has shown great leadership"—by bringing his support for gay marriage out of the closet.
Moonves stated "I run a news division. I've given no money to any candidate, which is misleading at best. He merely donated between $2,500 and $25,000 to the Democratic National Committee's "LGBT Leadership Council," which passed it along to the very candidates Moonves doesn't support. Then Moonves dared to admit the obvious: "Ultimately, journalism has changed . . . partisanship is very much a part of journalism now."
Moonves was acknowledging reality, for once. His industry was in the Obama-reelection business.
Just for yuks, Byron York of the Washington Examiner asked CBS spokesman Dana McClintock whether Moonves was referring to CBS News. McClintock sent back a four-word response: "No he was not." Obviously, CBS newscasts didn't report its own boss was clinking glasses with the president and handing him cash in Beverly Hills.

Mild-Mannered with Manhattan Moneybags
The New York–based national media also went radio-silent on Obama while he raised millions just blocks away from their studios in Manhattan. For days, the media elites incessantly reminded the little people that Obama suavely sang six words of Al Green's soul classic "Let's Stay Together." That came at the Apollo Theatre in one of several Big Apple fundraisers. The Today show hyped Obama as "Crooner-in-Chief" onscreen, as weatherman Al Roker oozed "he could be on The Voice." News anchor Natalie Morales added, "Sign him up."
That same night, Obama held a $35,800-per-ticket fundraiser at the Upper East Side brownstone of director Spike Lee, who was infamous in the Bush era for suggesting, in a reckless conspiracy-theory HBO documentary, that the federal government dynamited the levees to drown black people in New Orleans after Hurricane Katrina. Obama patronized the director by claiming his wife and he went on their first date to see Lee's movie Do the Right Thing, which ends with a fiery race riot.
All the networks skipped that event, and even The New York Times barely mentioned it at the very bottom of its story on Obama's travels that day, even though Times reporter Jackie Calmes was present at Lee's place on behalf of other media outlets in the White House reporter pool.
But on July 9, Mitt Romney held a fundraiser out on Long Island, in the Hamptons, and suddenly the class-war negativity was unleashed. Michael Moynihan, a summer substitute for Jennifer Rubin at the "Right Turn" blog for The Washington Post, noticed an aggressive anti-Romney trend.
The Associated Press argued "Romney may have unintentionally helped the Obama campaign. Mercedes, Bentleys—and, in one case, a candy red 2013 Ferrari Spider crowded into a series of closed-door Romney fundraisers" in the "weekend playground" of the Wall Street elite.
The New York Times also spotted "a line of gleaming Bentleys, Porsches and Mercedes-Benzes waiting to deposit guests paying up to $25,000 a head" who dined on "prosciutto-covered melon balls." The Los Angeles Times noted a "line of Range Rovers, BMWs, Porsche roadsters and one gleaming cherry red Ferrari."
AP spoke with an investment banker who "chewed a cigar in his black Range Rover." The AP also distributed a photo of leftist protesters "from MoveOn.org, the Occupy Movement and the Long Island Progressive" with a banner that read "Mitt Romney Has a Koch Problem." Obama admitted snorting coke, but he never suffered a Coke Problem.
The New York Times also carried a photo of the protesters with the "Koch problem" banner and began its story: "A woman in a blue chiffon dress poked her head out of a black Range Rover here on Sunday afternoon and yelled to an aide to Mitt Romney. 'Is there a VIP entrance? We are VIP!'"
It wasn't the same when Obama had two New York fundraisers less than a week later on June 15 with stylist actress Sarah Jessica Parker and Vogue magazine editor and diva Anna Wintour.
The New York Times didn't mention anyone's Bentleys in a story simply headlined "Obama Visits New York for Star-Studded Fundraisers." Two days later, Wintour was puffed in a Times piece headlined "Power Is Always In Vogue." The Los Angeles Times offered no story.
The networks were indifferent. CBS barely noticed at all (with one brief mention of Parker and Wintour on CBS This Morning on June 15 in their quick-edit "Eye Opener" feature). NBC passed it along a few times, as Chuck Todd breezily reported on that same morning, "Well, it wasn't quite Bieber fever last night at Sarah Jessica Parker's house, but the president again found himself rubbing elbows with a bunch of celebrities as he tries to rake in as much cash as he can at a couple of fundraisers last night."
Only ABC's Jake Tapper and Terry Moran briefly broke the mold and audibly pondered that the images might not look good in hard economic times. Previewing the events on the June 4 Nightline—airing in the East at 11:35 p.m.—Moran said "there just seems to be something tone deaf about the Obama campaign's decision at the very moment unemployment is again on the rise to enlist Madame Wintour as one of the hostesses of his fundraiser."
The trend resurfaced on September 18 with a $40,000-a-plate dinner for one hundred people at rap star and former drug dealer Jay-Z's 40/40 Club in Manhattan. The New York Times couldn't even put this story in the paper. Online, their report began, "On a day when Mitt Romney's videotaped remarks at a Republican fund-raiser dominated the campaign, President Obama attended two fund-raisers of his own in New York City, one hosted by the music super-couple Beyoncé Knowles and Jay-Z."
They let Obama lecture Romney on populism, reporting that Obama appeared on the Letterman show on CBS and argued, "My expectation is, if you want to be president, you've got to work for everybody, not just for some." Later, he added, "What I think people want to make sure of is, you're not writing off a big chunk of the country."
The Times did not report on Jay-Z's prize attraction. His nightclub features a champagne tower of 350 bottles of $300-a-bottle Armand de Brignac Brut Gold, worth $105,000. Try imagining Obama and Jay-Z in front of that spectacle while Obama tells Letterman you can't just work for the rich people.
AP shamelessly distributed a story headlined "Obama: As President You Represent Entire Country." Matthew Daly reported: "Rebuking Mitt Romney, President Barack Obama said Tuesday that Americans are not 'victims' and that voters want to make sure that their president is 'not writing off big chunks of the country.'" With zero sense of irony, Daly began a perfunctory recap of the Jay-Z fundraiser at paragraph 16, with no word of a champagne tower. ABC, CBS, and NBC never mentioned this clash of opulence and "populism."