Following the path of
CNN Middle East correspondent Aneesh Raman
and
producer Kate Albright-Hanna
, who both jumped aboard the Obama campaign last year,
senior political producer Sasha Johnson
this week announced she's leaving the network's Washington bureau to take the Press Secretary slot at the Department of Transportation. She won't be the only media vet in that shop. As
The Politico's Michael Calderone noted
Monday night in reporting Johnson's move, former
Chicago Tribune Washington correspondent Jill Zuckman
"already headed to Transportation in February, becoming Director of Public Affairs and assistant to Secretary Ray LaHood."
Plus, in the past month or so, two other DC journalists accepted administration positions.
ABC's long-time Justice Department correspondent, Beverley Lumpkin
, who mostly handled radio news, in April joined the very department she covered for so many years, prompting a Washington Post blogger to quip on Tuesday that she's "turning sources into colleagues." Speaking of the
Washington Post, its former science reporter, Rick Weiss
, is now advancing Obama policy at the White House Office of Science and Technology.
So far, by my count,
at least ten mainstream media journalists have revolved into positions toiling for the Obama campaign, transition or administration.
And that doesn't count CNN's Sanjay Gupta, whom the administration courted for Surgeon General; nor long-time NBC News anchor and reporter Jane Pauley who campaigned for Obama last fall in her native Indiana.
In a Tuesday "Federal Eye" blog post spurred by Johnson's job change, "
The Ex-Journalists Now Working for Obama
," the Washington Post's Ed O'Keefe provided a list "of the reporters who've traded notebooks and recorders for policy and podiums," including:
Rick Weiss: Former Washington Post science reporter left for the Center for American Progress and now serves as communications director and senior policy strategist for the White House Office of Science and Technology.

Beverley Lumpkin: A former Justice Department reporter/producer for ABC and CBS, she left journalism, worked for the Project on Government Oversight and joined DOJ last month as press secretary, turning sources into colleagues.

A "public affairs specialist" at DOJ, Lumpkin worked for ABC News, mostly on the radio but with some television time (screen shot is from the December 1, 1999 World News Now), until sliding over to CBS News as its Justice Department producer through 2006.
Calderone passed along how Johnson, who, while not producing political news stories, appeared on CNN on many Saturday mornings (see screen shot at the top), will begin her new job on May 19, "according to an e-mail she sent to friends and colleagues. 'After 10 1/2 years at CNN, which included three presidential campaigns, I am ready for a new challenge and ready to fulfill another career goal -- the opportunity to work in public policy,' Johnson wrote."
Preceding Johnson in going from CNN into the Obama orbit (is that much of an adjustment?): international/Middle East correspondent Aneesh Raman and producer Kate Albright-Hanna, who was so eager to put her skills to work for Obama that while still working for CNN she pitched to the campaign "a proposal on video strategy," the Washington Post reported.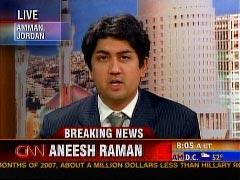 Raman left the network in June to "try something different" and MediaBistro's FishbowlDC discovered in September that by "different" he meant working for Barack Obama's messaging shop sending out e-mails for the campaign. (I'm not sure where he is now.) Matt Sheffield's
September 24 NewsBusters post
.
Hanna ran the new media operation, meaning online video production and distribution, for the Obama campaign. She then served as "content lead" for the Obama transition Web site (also don't know what she's up to now). My August 21 NewsBusters item, "
CNN Producer Pitched 'Video Strategy' to Obama Campaign, Got Job
," recounted:
Kate Albright-Hanna, who runs the Obama campaign's online video operations, got the job after she pitched the campaign "a proposal on video strategy" -- while she was still a CNN producer. A Wednesday Washington Post "Style" section feature on the key members of the "Triple O: Obama's online operation," recounted the how and when of her pitch to Joe Rospars, a Howard Dean campaign veteran in charge of the so-called Triple O:


An Emmy winner, she joined CNN's political unit in 1999 and met Rospars while filming a documentary on Dean. When she heard that Rospars was working for Obama, Albright-Hanna called and said she wanted to produce a doc on Obama. The campaign planned to develop its own video content, Rospars said. Intrigued, Albright-Hanna sent him a proposal on video strategy. Weeks later, she left CNN and moved with her husband and 3-year-old son to Chicago.

The key phrase: "weeks later, she left CNN..." So while working at CNN she was simultaneously developing a plan for Obama which, given their decision to hire her, they liked and she's implementing.

Before CNN, she was an intern in the Clinton White House and, in a Dateline NBC story days after the Monica Lewinsky story broke, she was featured by reporter Dawn Fratangelo as one of a group of former interns who "simply don't find it plausible the President of the United States could have an affair with an intern." In a soundbite (see slightly snowy screen shot from the MRC's archive), Albright-Hanna asserted: "I can't imagine how that would happen."

More journalists who have spun through the Revolving Door from the news media to Obama's team (or to work for John Kerry, so not in my list of ten):
A February 17 NewsBusters item by Tim Graham, "
Liberal Newspaper Reporters Revolve Into Jobs With Kerry, Obama
," relayed:
From the Revolving Door file: more liberal newspaper reporters are leaving their D.C. bureaus behind for jobs in Democratic politics. Scott Shepard of Cox Newspapers is joining the office of Sen. John Kerry as a speechwriter, while Chicago Tribune reporter Jill Zuckman is joining the Obama administration as a public-affairs officer for Transportation Secretary Ray LaHood.

Shepard is the second newspaper reporter to accept a job with the 2004 Democratic presidential nominee in recent months. Former Los Angeles Times and New York Times reporter Douglas Frantz is now chief investigator on Kerry's staff at the Senate Foreign Relations Committee.

Jake Tapper added two other names in a
February 16 "Political Punch" post
: "Former
Los Angeles Times reporter Peter Gosselin
who is now a speechwriter for Treasury Secretary Tim Geithner, and former
Washington Post deputy editor [of the Outlook section] Warren Bass
who is an adviser to United Nations Ambassador Dr. Susan Rice."
"
Time Magazine's Jay Carney Joins VP Joe Biden's Staff
," a December 16 MRC CyberAlert item recounted:
After 20 years with Time magazine, where he's served since 2005 as Washington Bureau Chief, Jay Carney announced Monday he's going through the revolving door to join incoming Vice President Joe Biden's staff where he'll oversee press operations for the Democrat. Officially, Politico reported Monday, he'll hold the title of "assistant to the vice president and director of communications." Carney is married to ABC News correspondent Claire Shipman, a regular on Good Morning America, and the two used to appear regularly together on ABC's This Week.

Linda Douglass
, who will lead the administration's health care PR push as Assistant Secretary for public affairs at the Department of Health and Human Services, was a long-time CBS News and then ABC News Washington bureau reporter before signing aboard the Obama campaign last May as a "senior strategist and senior campaign spokesperson on the road." After the election, Douglass put in a stint as the chief spokesman for the Presidential Inaugural Committee.  
Much more on her career and slanted reporting in my
May 21, 2008 NewsBusters posting
.