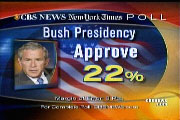 Friday's CBS Evening News delivered a parting shot at outgoing President George W. Bush as fill-in anchor Maggie Rodriguez paired how a just-released CBS News/New York Times survey pegged Bush's approval rating "at just 22 percent" -- which she noted "is the lowest for an outgoing President since the question was first asked more than 70 years ago" -- with how "68 percent said they expect Barack Obama to be a good or very good President."
The
CBSNews.com summary
of the poll pointed out the partisan disparity in assessing Bush:
Views of Mr. Bush's popularity are highly partisan. Only 6 percent of Democrats approve of the job he has done as president, while 57 percent of Republicans approve. Eighteen percent of independents approve.

The short item from Rodriguez on the Friday, January 16 CBS Evening News:
There's no question the economic crisis contributed to President Bush's poor showing in the final CBS News/New York Times poll on his job performance. This poll, out tonight, puts Mr. Bush's approval rating at just 22 percent. That is the lowest for an outgoing President since the question was first asked more than 70 years ago. Meanwhile, 68 percent said they expect Barack Obama to be a good or very good President.