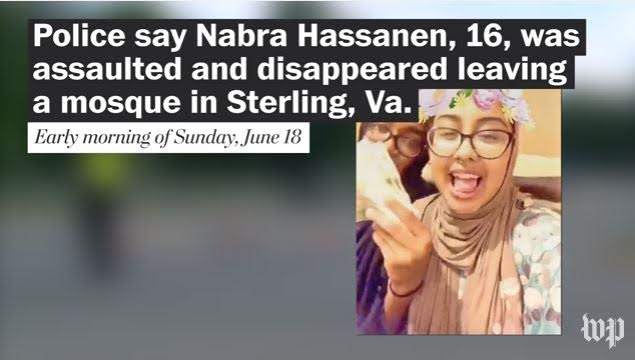 When Muslim teenager Nabra Hassanen, 17, was murdered Sunday, the media propagandized that it was a hate crime. They had no evidence to do so but they did so anyway. When the Fairfax County police dispelled the myth, they pushed harder. 
The incident is being described as a road rage incident and the killer Darwin Marinez Torres is an illegal immigrant.
CNN reported that the victim's parents were claiming their daughter was targeted because she was Muslim, but no mention of the suspect being undocumented was made. In fact, the story on CNN.com basically made the argument that the Hassanen was targeted because she was Muslim. 
Despite what law enforcement says, its timing coming amidst a recent spike in attacks on Muslims raised concerns in the Muslim community and prompted calls for increased security.
They then quoted a spokesperson for the terrorist supporting Council on American-Islamic Relations, who called for an investigation: "Would they have been targeted if they hadn't been of a certain faith or ethnicity? These are the kinds of questions we ask."
Al-Jazeera's headline and subheader read: "Police: Nabra Hassanen killed in 'road rage incident.' Many express outrage over Virginia police's decision not to investigate murder of Muslim teenager as a hate crime." Notice how they put "road rage" in quotes. The article went on to display tweets from people proclaiming that the murder was, in fact, a hate crime. Because quoting a bunch of ignorant people on social media really gets your point across. They of course then argued that America is Islamaphobic and that Muslims are the target of widespread violence. They reported virtually nothing about Torres let alone that he is an illegal immigrant from El Salvador, not a white supremacist.
The New York Times also included tweets from random individuals decrying the violence against Muslims. The article links the incident to increasing hate crimes against Muslims. No details about Mr. Torres are mentioned.
The Washington Post was perplexed as to why the police were not investigating the murder as a hate crime: "On Monday, they did not release any explanation as to why they weren't investigating the murder as a hate crime." The article hyped the parents' claims that Islamaphobia was a motivation and linked the crime to the Portland incident and the London van attack. Mr. Torres was not discussed. Tim Graham went into further detail about a separate Washington Post article covering the matter.
NBC emphasized the fact that the victim was Muslim and that new details could end up proving it was a hate crime. No mention of Mr. Torres being from El Salvador or of him residing here illegally.
BuzzFeed News emphasized that she was Muslim, but did not discuss Mr. Torres' background.
The Guardian ran with the victim's father's claims that it was a hate crime and then linked the incident to rising "anti-Muslim incidents" in the U.S. They also asked Muslims in the community if they thought Trump was inciting violence against them:
Randy Myers, a 44-year-old Muslim, said he believed there was a lot of hate in the US and that Trump was fueling hostility. "Trump being the president plays a big part because of the things that come out of his mouth," he said.
The LA Times did almost exactly the same thing.
Countless other news sources were just as horrendous in their reporting. To the credit of ABC 7 WJLA and the Daily Mail, they both reported that the suspect is an illegal immigrant.
Additionally, CBS and NBC censored Torres' illegal status in their nightly news programs.
MRCTV has also posted an article about the biased coverage.