On Thursday, the Associated Press posted two misleading headlines to their Twitter account, one with a full article attached. The first tweet had the article to match but misled their followers into thinking that the U.S. Army was discharging dozens of immigrants simply because they were immigrants.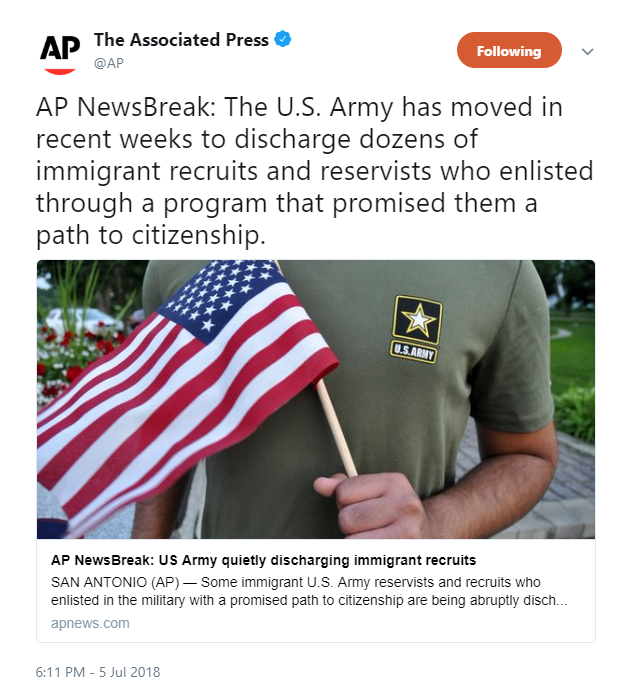 This is not the case. If you read the article, you will find that roughly 40 individuals were dismissed with some sources citing security risks. According to CBS News military analyst Mike Lyons, this happens to US citizens as well. The Army did not officially comment on the matter due to pending litigation.
The AP followed up with yet another misleading tweet just hours later as a rescuer working to save a soccer team trapped in a cave died from a lack of oxygen. The Associated Press reported the tragic loss of a Thai ex-Navy SEAL in a manner that made it seem as if it was a United States Navy SEAL. The rescue diver's name was Saman Gunan and he lost consciousness on his way out of the cave while delivering oxygen tanks to the trapped boys. He was a highly trained diver, but his untimely and heroic death raised more questions about how the soccer team will be successfully rescued.
President Trump received criticism on Twitter after the death of Gunan was reported with some calling for him to comment on the loss of an American service member. However, none of these people were aware of the fact that Gunan was Thai.
The Associated Press had a penchant in the last 24 hours for misleading the public on issues that may sway public opinion of the current administration. A bit more effort in their reporting would be a welcome change.