In a segment on his January 22 Hardball program, MSNBC anchor Chris Matthews made perfectly clear his disdain for Israeli Prime Minister Benjamin Netanyahu and for House Speaker John Boehner for inviting him to address a joint session of Congress on March 3.
"Coming up: Sabotage! Boehner declares war on the president's nuclear negotiations with Iran," Matthews thundered as he teased the segment. "The Speaker's invited Israeli Prime Minister Benjamin Netanyahu to slam the president during a joint meeting of Congress that's coming up. Netanyahu, obviously, has accepted the invitation."
"Well, the White House is obviously stunned by the spectacle that John Boehner has orchestrated on Capitol Hill," Matthews noted as he opened the segment:
Speaker Boehner stuck it to the president's eye, directly in his eye, by inviting Israeli Prime Minister Benjamin Netanyahu, a fierce critic of Obama's nuclear negotiations with Iran, to actually address a joint meeting of Congress come March 3.

Speaker Boehner arranged the whole thing without ever consulting the White House. Netanyahu obviously accepted. The White House reacted with a statement saying President Obama will not even meet with Netanyahu when he comes to Washington.

This is something I've never seen before.
Introducing a clip of the Speaker, Matthews then added that Boehner "made no apologies for the confrontation he is staging."
Moments later, after welcoming his guests Glenn Thrush of Politico and Richard Haass of the Council on Foreign Relations, Matthews whined to Thrush about the "in-your-face" Boehner invite, making clear he's offended not merely because it appears to be an unprecedented breach of diplomatic protocol but because Netanyahu is "a man of the right... with his own ideology and brand of politics which is adversarial to this president."
"What do you make of it, politically?" Matthews asked Thrush, who replied that "this has everything to do with payback" for Obama's unilateral action on illegal immigrant and conservative outrage that the Speaker wasn't being forceful enough in countering Obama's actions.
Although Matthews did also acknowledge New Jersey Democratic Sen. Robert Menendez's strongly-worded condemnation of Obama foreign policy on Iran, the Hardball host preferred to train most of his fire on Boehner and Netanyahu. For his part, Thrush gladly joined in with Matthews in trashing the Israeli premier:
Well, the one thing about it is Netanyahu's behaved badly before. Right? He was perceived and there was some, either rumors or there were tapes, I forget which, in 2012, of saying incredibly nice things about Mitt Romney and then coming to the country not long before the 2012 election. So this is not the first time that he's dived into the American political waters. I think the calculation that the White House is making is that he's going to overshoot the runway, that he's going to appear ingracious.
Moments later Matthews rattled off a "couple Netanyahuisms" such as when Netanyahu "announced a big housing settlement thing right while [Biden's] there in his face" and more recently when he, in France to mourn the dead in the kosher market shooting "invit[ed] Jewish people to come leave France because it's not a safe place to be and come to Israel."
"I mean graciousness is not his, well, his normal behavior," Matthews snarked.
Earlier in the segment, Matthews absurdly offered that the very least Boehner could do is offer equal time to Netanyahu's chief rival in the Israel elections, a notion which seems to have left Richard Haass a little baffled (emphases mine):
MATTHEWS: Are we going to hear from Tzipi Livni and the others or just from Netanyahu and the Likud bloc? I mean, how about a little balance here once in a while? Just a thought.

HAASS: I expect in this case we'll only hear from the Prime Minister. Look, you know, I'm not sure what the question is right now. Should Mr. Boehner have done this? Uh, in my view, essentially not. Yes, he has the right to do it, but it's tough enough carrying out a foreign policy in this world when the United States speaks with one voice. To try to do it when we speak with many voices, I think, it just makes a difficult situation rougher.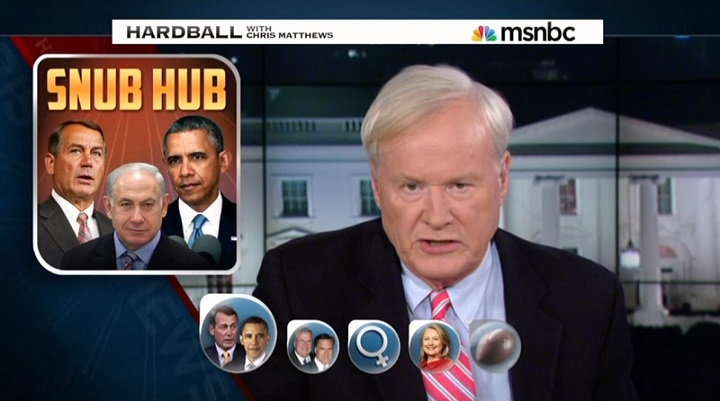 Author's Note: Corrected from earlier, which erroneously listed the scheduled date of the speech as February 11. It is to be on March 3.