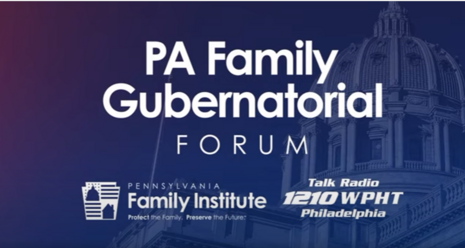 Democracy or demagoguery? YouTube censored a Pennsylvania Republican gubernatorial debate hosted by a pro-family institute, then reinstated the video, claiming it had "mistakenly" removed the event video.
The Pennsylvania Family Institute hosted a March 24 two-hour forum for a debate between gubernatorial candidates, which was livestreamed and broadcast over Philadelphia radio station WPHT. The institute announced that YouTube had taken down the recorded livestream video of the event in what it called "a stunning and scandalous attack on a fair and free democratic process." The Pennsylvania Family Institute said YouTube told the group that its video violated the platform's "misinformation policy" and indicated the objectionable content related to the 2020 presidential election. 
MRC Free Speech America reached out for comment, and YouTube spokesperson Ivy Choi said that the video had been "mistakenly" removed. Choi added that PA Family Institute's video has since been reinstated.
Pennsylvania Family Institute President Michael Geer said the forum featured no questions about the 2020 election, and indicated that YouTube objected to some candidates' answers. 
"This is a blatant assault on free speech, free elections, on the ability of candidates to freely state their views, and on the right of citizens to hear the varied perspectives of those who are seeking their votes," Geer said. "It hinders the process of democracy, shuts down the free marketplace of ideas, and ironically, further erodes confidence in our elections." The Institute stated that it appealed YouTube's censorship.
Seven out of the nine Pennsylvania GOP gubernatorial candidates came to the event, and several candidates later slammed YouTube's censorship, according to the Delaware Valley Journal. 
"Apparently standing up for the sanctity of human life and defending the rights of young girls who want to play sports is out of bounds for YouTube," candidate Dave White reportedly said. "The beauty of our First Amendment is that it is not simply freedom of speech, but the freedom to exercise that speech."
Fellow candidate and former U.S. Rep. Lou Barletta tweeted, "Just because Big Tech doesn't agree with our politics does NOT give them the right to silence us!" 
Another candidate, Conservative Political Action Conference Vice Chairman Charlie Gerow agreed that the censorship was an "outrage," according to the Delaware Valley Journal. 
"Attempting to silence the voices of the Republican candidates is yet another example of the cancel culture that is ripping us apart," Gerow reportedly said. "We're fighting back and won't allow ourselves to be silenced, sidelined, or shut down."
This is not the only time YouTube has claimed it made a "mistake" after censoring content. The Ron Paul Institute YouTube channel was censored and then reinstated in September, with YouTube claiming it had made a mistake.
Conservatives are under attack. Contact your representatives and demand that they hold Big Tech to account: Tech giants should afford their users nothing less than the free speech embodied in the First Amendment. If you have been censored, contact us using CensorTrack's contact form, and help us hold Big Tech accountable.