May 8 is the 75 anniversary of VE Day. Sadly, there are few remaining veterans of the war in Europe, and in our current circumstances, it's difficult to properly thank those still here.
But we can watch movies about them. It's not as though we don't have time. Here are some suggestions.
This list isn't comprehensive and the only order is chronologically by release date. These 15 movies are set in the European Theater of WWII. As much as possible, they make some attempt at historical veracity. (There are many other great movies -- everyone has a favorite, like The Dirty Dozen, The Guns of Navarone or the immortal Kelly's Heroes -- that are wonderful adventure tales that don't hew as closely to history.)
These aren't propaganda films. Each features its share of the folly, waste and horror inherent in war. But they are reminders of what was at stake and the sacrifices the time demanded. And they are respectful of those who did the fighting, and the cause they did it for.
A Walk in the Sun 1945
Centered on a U.S. platoon in Italy, it's not a big budget epic, but no less affecting.
The Cruel Sea 1953
Based on the excellent novel by Nicholas Monsarrat, its about the British Navy on convoy escort during the Battle of the Atlantic against German U-Boats.
Battleground 1949
Van Johnson and Rishard Widmark as Screaming Eagles on the line at Bastogne.
To Hell and Back 1955
Audie Murphy, the most decorated U.S. serviceman of the war, plays himself in a movie about (just a few of) his experiences. Murphy earned a Medal of Honor, a Distinguished Service Cross, two Silver Stars, a Legion of Merit, and two Bronze Stars.
The Longest Day 1962
Filmed on location in many of the actual battle sites of Normandy, this a big movie with a big-name ensemble cast that tells the big story of D-Day.
Highly detailed, realistic retelling of why so many owed so much to so few. Starring Michael Caine.
Patton 1970
'No bastard ever won a war by dying for his country. He won it by making the other poor dumb bastard die for his country." George C. Scott won an oscar for his portrayal of "Old Blood n' Guts."
A Bridge Too Far 1977
The epic tale of the audacious but futile 1944 airborne attack. Everybody who was anybody in 1970s Hollywood is in this.
The Big Red One 1980
Based on the actual experiences of writer-director Robert Fuller with the U.S. 1st Infantry Division from North Africa to Italy to Normandy and into Europe.
Schindler's List 1993
Why victory was crucial.
Saving Private Ryan 1996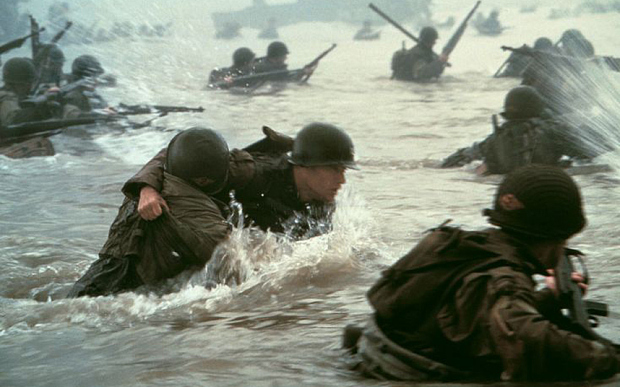 The first 20 minutes, recreating the horror and heroism of Omaha Beach, are incredible.
Band of Brothers 2001
This HBO miniseries is the story of Easy Company, 506th Regiment,101st Airborne Division from training in Georgia to Hitler's Berchtesgaden.
Fury 2014
Americans faced intense combat inside Germany right up to the end, as this tale of a Sherman tank crew makes clear.
Dunkirk 2017

The salvation of the British Army in 1940, told about as well as can be done on film.
Darkest Hour 2017
Gary Oldman as the man who "mobilized the English language and sent it into battle" against Hitler, when others argued for capitulation.