Meet Supergirl's newest side-kick, Madame President.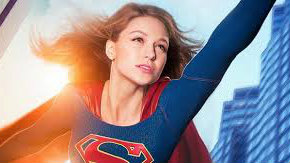 The CW's Supergirl is the antidote to cries that there's not enough estrogen in the superhero industry. The title character is Superman's biological cousin and, like every good superhero, uses her powers to save the world from imminent peril.
But every superhero needs allies, and what better choice than a female president of the United States? The show's producers recently announced that Lynda Carter, the original Wonder Woman from the 70's, has been cast to play the POTUS in season 2 of Supergirl.
Which just happens to premiere on October 10, a month before the possible election of a real female POTUS. Hmm…probably just a coincidence.
Carter publicly endorsed Hillary Clinton in 2015, saying that "Hillary has my endorsement for all of her life and mine." The Wonder Woman star added that "she can have my Lasso of Truth." So although Carter hasn't made a TV appearance in several years, she's more than happy to answer the call of duty to help her girl Hillary out via entertainment media.
The media has become increasingly obsessed with the idea of a female president. The upcoming film Independence Day: Resurgence features actress Sela Ward playing the pantsuit-wearing POTUS (or should it be FLOTUS?) HBO's Veep and NBC's State of Affairs also feature female presidents, and those are just the shows currently on air.
But again, this trend is sure to just be a fluke. Hollywood would never be so manipulative that they'd make the idea of a female president chic, especially during an election year.