Such class! What poise! You can assume 99% of the liberal celebrities on the Golden Globes red carpet support Planned Parenthood, America's largest abortion provider. But Lola Kirke was the one who felt she needed to publicly and obscenely attack someone who feels differently.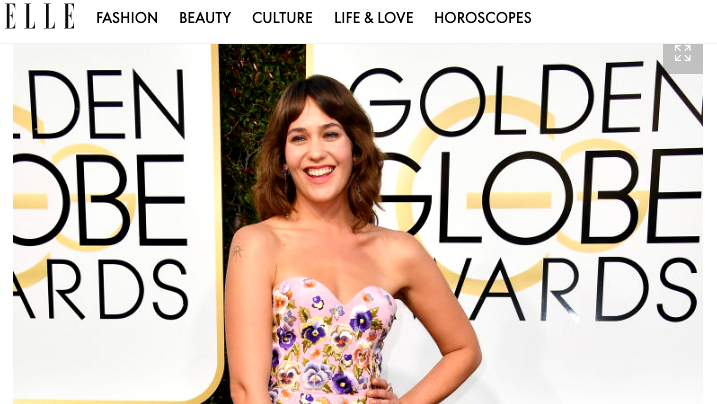 For the 2017 Golden Globes Sunday night, the actress (Mozart in the Jungle, Gone Girl) wore a pink floral gown. But what was most "eye-catching," according to women's magazine Elle, "was the pin attached to the front of her dress" reading "Fuck Paul Ryan."
Kirke told Elle that her pin supported Planned Parenthood.
"Paul Ryan is talking about defunding Planned Parenthood. I think that, along with a number of other decisions that are being talked about being made by the new administration, is atrocious," she said. "As a person with a platform, no matter what size it is, I think it's important to share your views and maybe elevate people that might agree with you, that maybe won't feel like they can have the same voice. My body my choice, your body your choice."
Predictably, the liberal media loved it. New York magazine called the pin "this season's must-have accessory" and Mic deemed it "a bit of bold, to-the-point political flair." Nylon magazine hailed it as the "one accessory on last night's red carpet which really stole our hearts."
Rooting for Planned Parenthood runs in the family. Kirke is the younger sister of actress Jemima Kirke, who stars in Lena Dunham's HBO show Girls -- a show that has spotlighted characters casually mentioning abortion. In 2015, Jemima told the story of her own abortion, which Planned Parenthood widely shared.
Besides acting together, Jemima Kirke is a close friend of Lena Dunham who made headlines last month after declaring she wished she had had an abortion. Dunham later apologized for her "distasteful joke."
"My stylist [Susan Winget] and her son made them for me," Kirke added about the pin. "They made me one in the Planned Parenthood colors yesterday that I was wearing. I'm sure there will be other issues to support, but this one is really important."
According to the Hollywood Reporter, Kirke wore a similar pin during Saturday's BAFTA Tea Party. On Friday, Kirke also asked her 13.8 million Instagram followers to call House Speaker Paul Ryan about Planned Parenthood.
"#paulryan is obviously not worthy of all the phone calls he is about to receive from all you mega beautiful babes but he's leaving us no choice," she wrote. "Let's do it."
It's all in the Hollywood family, too. Golden Globe winner Tracee Ellis Ross declared she wanted to pawn her jewelry for Planned Parenthood.
Even if the government defunds the abortion giant, it's clear Planned Parenthood won't be left dry with its Hollywood revenue stream.