NBC is accusing ISIS of genocide – but only after some star power got involved.
On Monday, an NBC correspondent attached the term "genocide" to ISIS four times following an exclusive interview with Amal Clooney (married to actor George Clooney). That shouldn't be a revolutionary move, considering that the United States officially accused ISIS of genocide in March. But it is, according to a recent MRC report on the media's coverage of ISIS.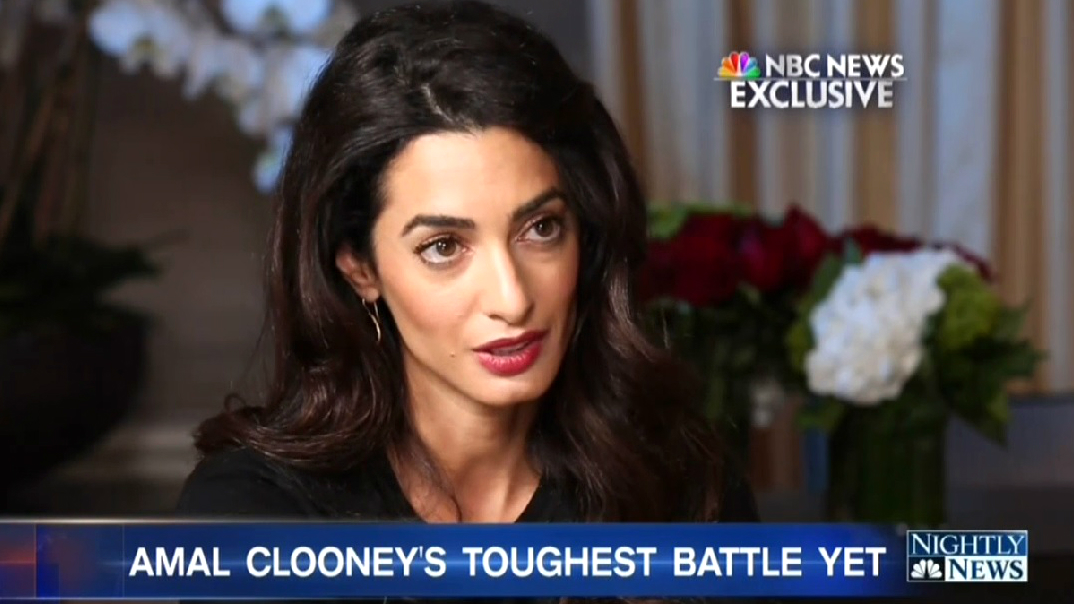 The report shows that, in the past two-and-half years, the broadcast network evening news shows (ABC, NBC, CBS) reported on the persecution of Christians in the Middle East, Africa and South Asia only 60 times. And of those 60 reports just six used the word "genocide."
In other words, for Amal Clooney's actions against ISIS to influence one network to say "genocide" 4 times (once during Today, three times during Nightly News) in one day is, sadly, a big deal. But her push seems to be what it takes for the networks to call out ISIS' atrocities for what they are.
Human rights attorney Amal Clooney recently gave an exclusive interview to NBC as she represents Nadia Murad, a young Yazidi woman abused by ISIS as a sex slave.
For Monday's Nightly News, NBC anchor Lester Holt introduced the "two courageous women taking on ISIS." He then turned the segment over to senior legal investigative correspondent Cynthia McFadden, who conducted the interview with Clooney, to tell the women's "story of bravery."
Once a farm girl, 23-year-old Murad suffered persecution because of her Yazidi faith, a minority religion primarily located in northern Iraq. Besides murdering her six brothers and mother, ISIS fighters gang raped her until she was unconscious. Her story inspired Clooney to speak out against ISIS in the courtroom.
"She made me make the decision," Clooney said, "because I met her and I just thought, 'I can't walk away from this.'"
McFadden compared the efforts of Clooney and Murad to the Nuremburg trials of Nazi leaders following World War II.
"They want ISIS commanders on trial for genocide, crimes ISIS brags about committing against the Yazidis, a religious minority from northern Iraq," McFadden said. "5,000 of them have been slaughtered. And 3,200 are still enslaved."
To hold ISIS leaders accountable, Clooney and Murad are calling on the International Criminal Court for prosecution.
McFadden even criticized how "the world community has failed to act." (Never mind how the media have failed to report.)
"Nadia pushed U.N. delegates this morning, asking 'if beheadings and child rape doesn't move you to act, when will you?" McFadden said.
In addition to Nightly News, McFadden appeared on NBC's Today earlier that day to discuss the same topic.
McFadden revealed that she had followed Clooney for the last ten days as she "makes the legal case to world leaders and diplomats for taking ISIS to court for genocide." Again, she used the word while commending the two "warriors" for "urging the U.N. to investigate and ultimately try ISIS commanders for genocide."
The segment also emphasized that George Clooney supported Amal in her latest case.
"This is something I discussed with my husband before I would take on something like this," Amal Clooney said. "We did discuss it. And we are aware of some of risks involved, of course."
Her husband, George Clooney, even met Murad.
"I think he was moved for the same reasons," she added. "And he understood. I mean, this is my work."
In her conclusion, McFadden added Clooney told her that genocide is usually a "hard case to prove," but that it's easier here because "ISIS admits what they're doing, and they do intend to wipe out the Yazidi people."
Besides repeatedly addressing the U.N., Murad is a Nobel Peace Prize nominee and, last week, became a U.N. Goodwill Ambassador.
Following the segment, co-host Lauer called the two "incredibly impressive" and Guthrie applauded them because their effort "really shines a light on something what might otherwise not get that attention."
The story was a big deal for NBC. Co-host Willie Geist advertised the segment on Sunday's Today and fill-in anchor Kate Snow did the same during Sunday's Nightly News. Even going back to Friday, Holt teased the exclusive during Nightly News, commenting that, with Amal Clooney's involvement, "the U.N. got some major star power."
And, it would seem, the genocide of religious minorities by ISIS got some power too – or at least a little bit more recognition by the American media.