"Hillary Clinton" is synonymous with "women's rights," according to the broadcast networks.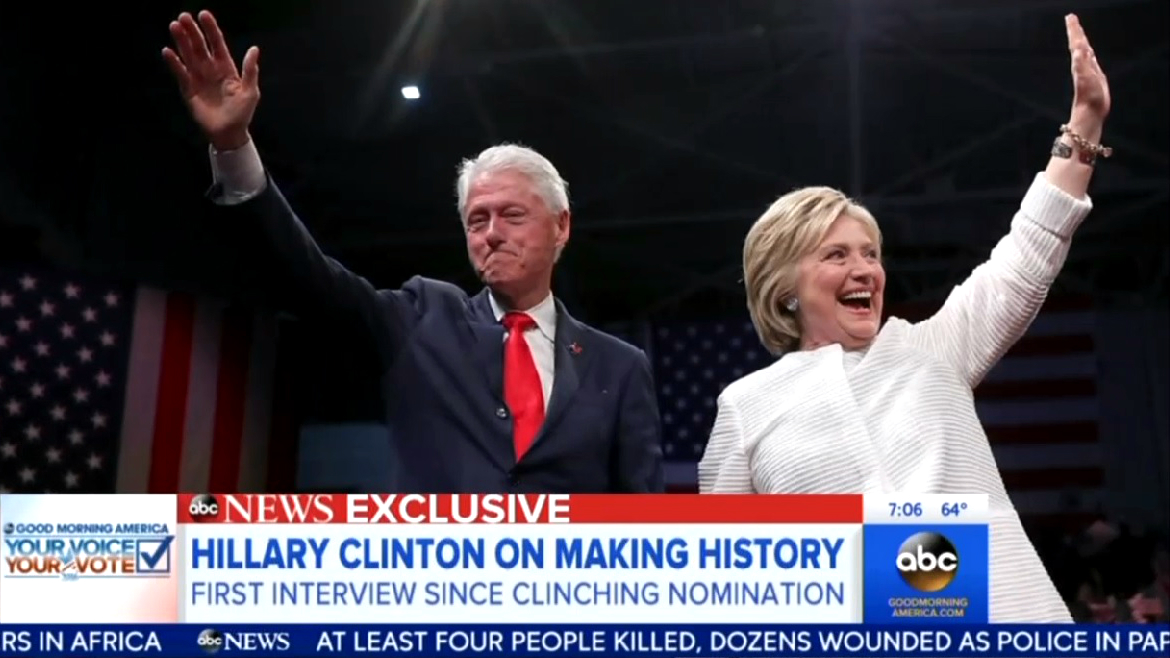 During their national news shows, ABC, CBS and NBC have repeatedly brought up "women's rights" while reporting on Democratic presidential nominee Hillary Clinton since she announced her presidential bid. In that same time frame, the networks mostly ignored the tens of millions of dollars in donations the Clinton Foundation accepted from countries that violate women's rights.
When the broadcast networks say "women's rights" and "women's health" they often mean abortion. It's no media secret that Clinton supports abortion. But what about the media also reporting Clinton's connection to traditional (ahem, legitimate) women's rights?
Abortion is controversial in this country. But honor killings, male guardians for adult women, marital rape, wife beating and domestic abuse are issues Americans don't have a problem condemning.
Networks Advertise Clinton as "Women's Rights" Leader
Since Clinton announced her 2016 presidential bid on April 12, 2015, network anchors and correspondents have connected her to "women's rights" eight times.
ABC anchor David Muir interviewed Clinton about "women's rights" in a clip that played on Good Morning America June 8.
"You have talked so often about the unfinished business not only in this country but around the world when it comes to women's rights," he said. "Is having the first female American president part of that unfinished business?" Video below.
For CBS Evening News June 7, anchor Scott Pelley and congressional correspondent Nancy Cordes reported on Clinton making "history now as the first woman to lead a major party ticket" with a "speech and campaign video that frame her achievement as the latest victory in the fight for women`s rights."
ABC correspondent Rachel Smith played a clip from Jennifer Lopez's "girl power" song Ain't Yo Mama on Good Morning America May 7. The song included audio from Clinton declaring that "Human rights are women's rights and women's rights are human rights."
Smith said the clip came from Clinton's "United Nations speech on women's rights back in 1985." She added about the song, "It's got like just a good beat to it, and I like the concept of the video."
NBC's White House correspondent, Kristen Welker, brought up Clinton on Today, February 7. She described Clinton's campaign strategy as "touting the work she`s done to promote women`s rights."
Also a White House correspondent, Jonathan Karl, for ABC World News Tonight on January 7, reported on GOP presidential candidate Donald Trump "challenging Hillary Clinton's record on women's rights" with a new political ad.
D.C. correspondent Julianna Goldman also heralded Clinton "hitting the campaign trail" and "focus[ing] on women's rights" during CBS Evening News, September 5, 2015.
On June 13, 2015, NBC Chief Foreign Affairs Correspondent Andrea Mitchell spoke of a Clinton rally during Today. "Today`s rally will be long on promises," she reported, "women`s rights, affordable college, jobs, rebuilt infrastructure, specifics to come later."
Earlier that day, also for Today, reporter Frances Rivera referenced the Clinton event in New York City. "She is expected to make a very personal presentation touching on the inspiration of her mother," she said, "as well as the fight for women`s rights and making colleges affordable."
Networks Note Clinton Foundation Donors against Women – Twice
In contrast, the networks have mentioned just twice since Clinton announced her 2016 presidential bid that the Clinton Foundation once accepted donations from countries that discriminate (specifically) against women. CBS This Morning on April 20, 2015 noted former GOP presidential candidate Rand Paul "heavily criticizing" the Clinton Foundation of accepting donations from countries with "terrible records on women`s rights."
The second mention came from Andrea Mitchell during NBC Nightly News April 20, 2015. "Hillary Clinton resigned from the foundation when she announced for the – for the White House," Mitchell admitted, "and last week after criticism, the foundation said it will no longer accept money from Arab countries which discriminate against women."
Clinton Foundation's Foreign Donors
Those two media mentions hardly do justice to the tens of millions that the Clinton Foundation has received in the past from countries that discriminate against women.
Foreign Donors ($25,000+) to the Clinton Foundation:*

Saudi Arabia: $10,000,001 – $25,000,000

Dominican Republic/COPRESIDA: $10,000,001 – $25,000,000

Kuwait: $5,000,001 – $10,000,000

Qatar: $1,000,001 – $5,000,000

Oman: $1,000,001 – $5,000,000

United Arab Emirates: $1,000,001 – $5,000,000

Algeria: $500,000

Bahrain: $50,000 – $100,000

Ras al-Khaimah (UAE): $25,000 – $50,000

TOTAL: Up to $75,650,000

*Note: Only countries listed by Human Rights Watch included.

Sources: NewsBusters (International Lesbian, Gay, Bisexual, Trans and Intersex Association, Clinton Foundation, CNN, Free Beacon), Fox News, Fox News Latino and Politifact.
The Human Rights Watch (HRW), a nonprofit recognized by the United Nations, included these countries in World Report 2016, its "annual review of human rights around the globe."
Saudi Arabia: Gave Up to $25,000,000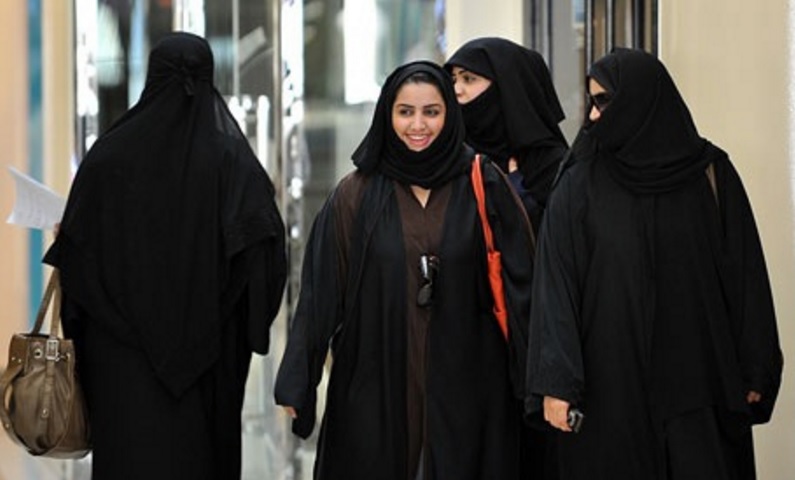 HRW recently listed Saudi Arabia's male guardianship system as "the most significant impediment to women's rights in the country despite limited reforms over the last decade."
Women need men's permission to "travel abroad, marry, or be released from prison," and even to "work or get health care," HRW stressed. In Saudi Arabia, women are "permanent legal minors" forbidden from activities including driving.
Dominican Republic: Gave Up to $25,000,000
HRW reported that "violence against women and girls remains a problem." Between January 2008 and October 2014, the National Police revealed "more than 1,300 deaths due to gender-based violence.
Kuwait: Gave Up to $10,000,000
Among other things, Kuwait, "has no laws prohibiting domestic violence, sexual harassment, or marital rape" and prohibits women from marrying someone of her choice without consent from her father, HRW recorded. Proposed legislation to "penalize sexual harassment" failed to pass in 2015.
Qatar: Gave Up to $5,000,000
According to HRW, marriage depends on consent from men, or, in other words, "marriage contract is valid when a woman's male guardian concludes the contract and two male witnesses are present." While husbands are forbidden from harming wives "physically or morally," a wife must "look after the household" and "obey her husband."
Domestic violence and marital rape are not criminalized.
"[U]nder Sharia law, which applies to Muslims, any individual convicted of zina (sex outside of marriage) can be sentenced to flogging (non-married persons) or the death penalty (married persons)," HRW report added. "According to media reports, dozens of people have been given flogging sentences—ranging from 40 to 100 lashes" since 2004, with at least 45 cases between 2009 and 2011.
Oman: Gave Up to $5,000,000
While the country's law deems citizens "equal and bans gender-based discrimination," "women continue to face discrimination."
Oman "criminalizes sexual relations outside marriage," HRW reported. "Criminalization of such offenses apply disproportionately to women whose pregnancy can serve as evidence of the offense."
United Arab Emirates: Gave Up to $5,000,000 (and up to $50,000 from Ras al-Khaimah, one of seven emirates that constitute the United Arab Emirates)
"Discrimination on the basis of sex and gender is not included in the definition of discrimination in the UAE's 2015 anti-discrimination law," HRW recognized.
Among other things, UAE dictates that a male guardian must conclude marriage contracts for women and that a woman "can lose her right to maintenance if, for example, she refuses to have sexual relations with her husband." Wives must "obey" their husbands, which often includes obtaining spousal consent before working.
UAE law allows domestic violence as well as "'chastisement by a husband to his wife and the chastisement of minor children' so long as the assault does not exceed the limits prescribed by Sharia, or Islamic law."  UAE also authorizes "beating and other forms of punishment or coercion by husbands on their wives, provided they do not leave physical marks."
Algeria: Gave $500,000
The lower chamber of parliament recently "adopted a draft law" in order to "criminalize physical violence against a spouse and sexual harassment in public spaces," HRW reported, "but amid opposition from Islamist and conservative parties by September, the Senate had still to debate and vote on the proposed law."
"There is no other specific law on domestic violence that provides measures to protect individuals from domestic violence" and "marital rape is not explicitly recognized as a crime."
Bahrain: Gave Up to $100,000
A parliamentary committee recently called for the repeal a penal code article "which allows rapists to escape punishment if they marry their victim," HRW reported. But, more positively, the king approved of a law that "provides measures to protect individuals from domestic violence."
No law prohibits sex or gender discrimination.
<<< Please consider helping NewsBusters financially with your tax-deductible contribution today >>>
<<< Thank you for your support! >>>
Methodology: MRC Culture searched for network transcripts of the morning and evening news shows on ABC, CBS and NBC containing both "Hillary Clinton" and "women's rights," from April 12, 2015 through June 25, 2016, the beginning of the 2016 Democratic National Convention in Philadelphia. MRC Culture also searched for network transcripts containing both "Clinton Foundation" and "women," during the same time period. For accurate wording from anchors and correspondents, MRC Culture watched the relevant news shows.