Prominent Twitter lefties including Hollywood celebs and Democrat politicians rushed to condemn President Trump's use of the term "coyotes" in a discussion on legal immigration during the final presidential debate. Their reasoning, however, was not because they claimed the term was xenophobic, but because they couldn't imagine small canine being able to carry immigrant children across the border.
No, we are not making this up. A slew of verified Twitter users, including a Democrat congresswoman and two Hollywood actresses seemed to think Trump mentioned literal coyotes instead of human traffickers. If millions of Americans are this stupid, perhaps we really could end up with a President Joe Biden.
Trump's misinterpreted comments came while discussing the topic of illegal immigration during the debate. The president made the point that border crossing is a much more complex issue than being mean to innocent children as the media and Biden like to say.
Responding to moderator Kristen Welker on how he intends to reunite children separated from their families, Trump stated, "Children are brought here by coyotes and lots of bad people, cartels. And they're brought here – and they used to use them to get into our country." Trump made the point that it's not as though these children are being stolen from their families by the U.S. government but that they are being taken out of a harmful situation in most cases.
No matter the substance of the point however, at least a couple dozen blue-check users jumped to fact-check Trump on the notion that small carnivorous mammals can't take kids across the border. What? Is Trump a frickin' moron or something?
User Sophia Narwits compiled images of over 40 verified users who appeared to complain about Trump's blaming of literal coyotes for part of the problem, rather than understand that coyote is a term for individuals who are paid to by foreigners to sneak people across the U.S. border from Mexico. 
One user with nearly 40,000 followers, for example, tweeted, "Please explain 'children are brought here by coyotes' to me? I'm certain that's not literal…" Well, it's not. Another, an L.A. Times employee, wrote, "not the coyotes being blamed now." Clearly, whoever that was doesn't spend time in her paper's newsroom. 
Another, @anjalikumar, a Twitter-verified author, wrote, "Oh my word WHAT CHILDREN ARE BEING BROUGHT HERE BY COYOTES YOU LOON."
Even more unbelievable, a woman in office made this insane blunder. A state congresswoman from Georgia, Dar'shun Kendrick tweeted, "Did @realDonaldTrump just say 545 kids they can't find their parents for came over through "cartels and coyotes"?! How the hell does a coyote bring a whole human across the border?!  Lord-----stop talking. #FinalDebate."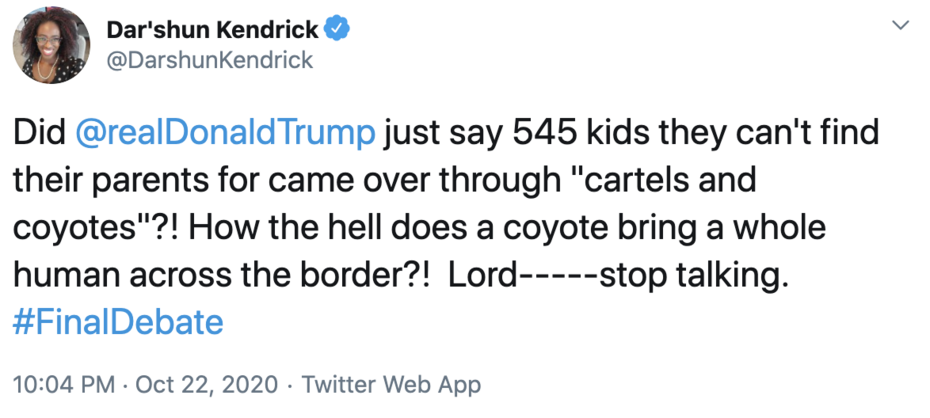 American Horror Story actress Sarah Paulson even put out a dead-pan, incredulous tweet, inviting her 1 million followers to mock Trump's point. She merely wrote, "Coyotes" as though that very word would elicit peals of laughter from Twitter idiots. 
And Sex and The City actress, Kim Cattrall tweeted, "people are brought here by 'coyotes'" and followed it up with a confused emoji. In a later tweet, she clarified she had no idea that Coyotes were an actual term to describe traffickers. 
And to think, the left incessantly screams about Trump's immigration policies. Clearly many of them haven't been paying attention to any of the actual details. Again, they forget Obama built the cages, and released caught children back into the hands of traffickers, and they think Coyote as is the character from Looney Tunes.