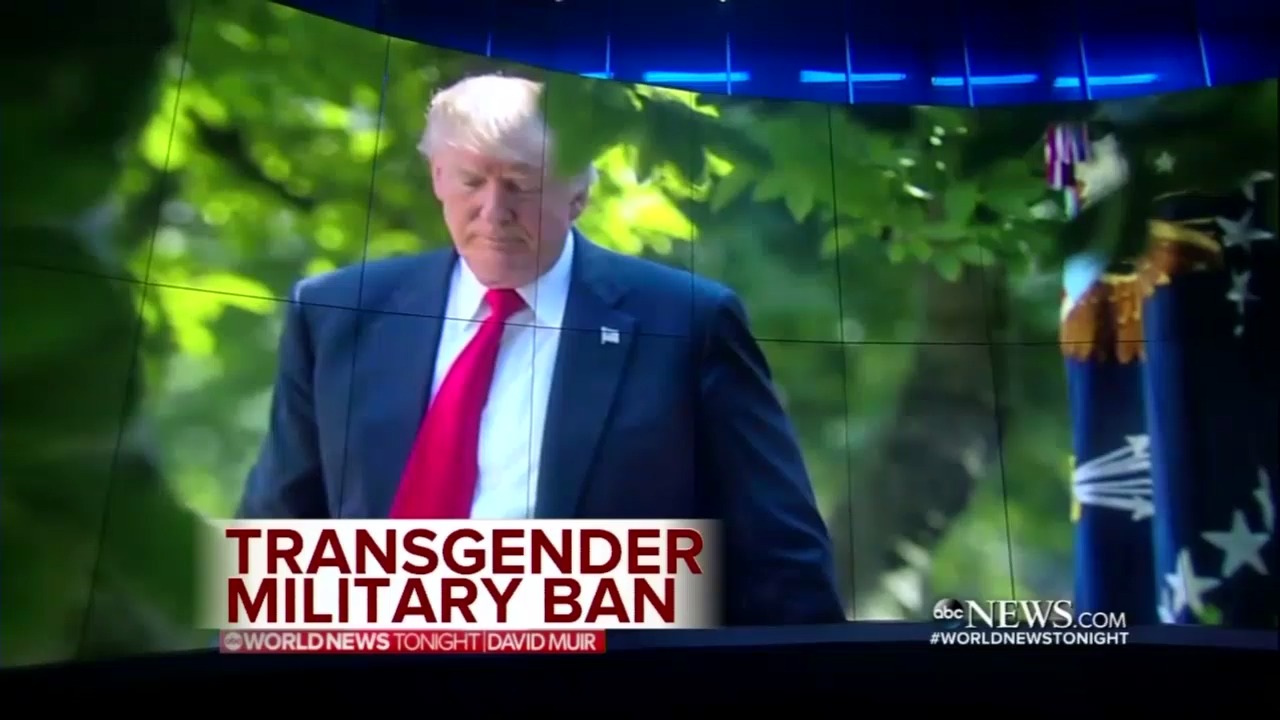 0.01% looks like a small percentage, but $69,000,000 is an enormous number. That's how much the military would spend on health care in 2018 for its 250 transgender members currently in transition, according to NBC's online article. But instead of focusing on numbers like that, the network news shows touted "outrage" against Trump and interviewed experts claiming the president's tweets "harm national security."
During their evening news shows July 26, the three broadcast networks expressed anger, while some ignored critical numbers. NBC Nightly News' White House Correspondent Kristen Welker reported that, "The latest report shows medical costs for transgender troops represent a small fraction of the overall defense budget." According to NBC, there are 250 active transgender military members currently in the medical process of "transitioning."
While the National Defense Authorization Bill, passed by the House of Representatives in June, allots $696 billion for 2018 Defense Budget, NBC in its online article reported that  0.01% of that bill would be spent on "transgender health."
Do the math. 0.01% of $696 billion is $69.6 million. If the ban had not been put in place, the military would have spent $69,600,000 on 250 personnel transitioning procedures, including hormonal therapy and gender re-assignment surgery. In comparison, an Apache helicopter costs the military $30 million, a cost also cited in the online NBC article.
But the news shows from ABC, CBS and NBC ignored, or at best, blew out of proportion the numbers.
CBS Evening News started off its analysis with a statement from CBS Senior National Correspondent Anthony Mason criticizing Trump, "who decided there is room for patriotic transgender Americans."
Following that, CBS Correspondent Major Elliott Garrett announced that "estimates of transgender individuals in the military range from 1,300 to 15,000."
15,000 is a vast overestimate. According to a RAND study released in 2016, ironically also cited by ABC as well as NBC's online article, the number of active members who identify as either transgender or "gender non-conforming" is between 1,320 and 6,630. Considering that as of 2016, the military boasted 1.3 million members, the percentage of personnel who identify as "transgender or non-conforming" at most is about 0.51%. One has to wonder where Major Garrett got his numbers. ABC's World News Tonight accurately cited that there were roughly 2,500 transgender members of the military.
Instead of focusing on the numbers, ABC, CBS and NBC, favored interviewing transgender soldiers versus representing supporters of Trump's decision.
ABC World News Tonight quoted trans soldier Logan Ireland as saying, "You are not going to deny me my right to serve my country when I am fully qualified and able and willing to give my life." CBS gave a full interview to trans soldier Blake Dremann, who encouraged the 250 in the military to stay on: "I do want to say to the service members that are currently transitioning in the military, continue to do what you are doing." NBC cited trans soldier Shane Ortega, who said, "I find this ludicrous."
Also during ABC's World News Tonight anchor David Muir called the ban "sudden and sweeping," bringing "immediate outrage." He did not mention that the ban was technically a nullification of Obama's lifting of the transgender ban in 2016.
CBS' Evening News anchor Lester Holt accused Trump of "possibly bypassing his own military" by banning transgender citizens from serving.
In an interview with Executive Director for Iraq and Afghanistan Veterans of America Allison Jaslow for CBS, reporter Jericka Duncan asked her whether transgender military members were disruptive. Jaslow fired back, "What's disruptive is 'shoot from the hip' policy making. The comments that the president made today harm national security."
Kristen Welker described the ban as a part of the attempt to pass "a spending bill filled with President Trump's campaign promises, including more money for his border wall." She stated that "medical care of transgender troops including sexual reassignment surgeries threatened to kill the deal." No citation was given for this information.
Methodology: MRC Culture watched the July 26 evening news shows (World News Tonight, Evening News, Nightly News) from the three broadcast networks ABC, CBS and NBC.