Judicial Watch recently filed a lawsuit against the Department of Justice after uncovering evidence it forced companies to give money to left-wing nonprofits during the Obama administration — nonprofits which also received millions from billionaire George Soros and other liberal foundations.
The Freedom of Information Act lawsuit filed on June 12, demands "records relating to an Obama administration policy of settling agency lawsuits against corporate defendants by requiring that the corporations make 'donations' to left-wing interest groups La Raza, the [National] Urban League and the National Community Reinvestment Coalition [NCRC]," according to the press release.
"When big banks are sued by the government for discrimination or mortgage abuse, they can settle the cases by donating to third-party non-victims," Fox News reported in March 2017.
So far, at least $3 billion in payments to "non-victim entities" like La Raza have been uncovered, Judicial Watch said.
During Obama's presidency however, the government didn't just force companies to donate to the left-wing nonprofits. Federal agencies also gave more than $89.5 million to the three non-profits: $69.9 million to the National Urban League, $13 million to National Community Reinvestment Coalition and $6.5 million to La Raza, according to USASpending.gov.
Major media have yet to cover both this Judicial Watch lawsuit and another lawsuit against USAID for funding Soros groups in eastern Europe.
The three left-wing groups cited in the Judicial Watch lawsuit are already backed with millions of dollars from liberal organizations like the Ford Foundation, the Bill and Melinda Gates Foundation and Soros.
The Ford Foundation gave more than $19.6 million to La Raza, $3.7 million to the National Urban League and nearly $1.2 million to the NCRC between 2003 and 2015.
The Bill and Melinda Gates Foundation meanwhile gave almost $24 million to La Raza and $15.5 to the National Urban League during the same time frame.
Soros' Open Society Foundation (OSF) gave $4.76 million to the La Raza and $700,000 to NCFC.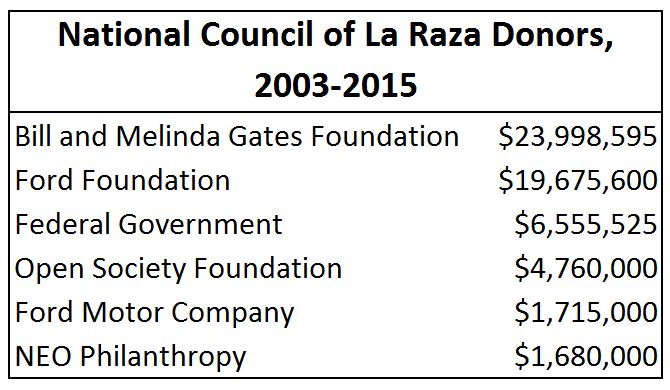 The Ford Foundation, Gates Foundation and OSF have given to many other left-wing causes as well. They are among Planned Parenthood's largest donors after giving tens of millions of dollars. OSF and the Ford Foundation also funded journalism groups behind the ongoing attacks on ExxonMobil over climate change.
Leaked emails from OSF revealed that during Obama's presidency, Soros advised then-Secretary of State Hillary Clinton on foreign policy in Albania. He also gave at least $10.5 million to Clinton's 2016 presidential campaign.