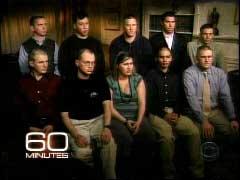 In February, CBS' "60 Minutes" did a segment gushing over an anti-Iraq war petition called "Appeal For Redress" signed by about a thousand members of the military.
On Wednesday, members of the Veterans of Foreign Wars presented Congress a petition signed by 2,700 current and former service members expressing support of the nation's actions in Iraq.
As this movement was in direct response to "Appeal For Redress," it is safe to assume that "60 Minutes" will be interviewing some of these brave souls in an upcoming program, right?
Regardless of the answer, Stars and Stripes reported Friday (h/t NB member rx4music):
The "Appeal for Courage" has been collecting signatures since February, with the goal of lobbying lawmakers to back off plans for withdrawal timetables or funding caveats.

Organizer Lt. Jason Nichols, a 33-year-old naval projects officer who has been in Baghdad since mid-January, said he has been pleased with the response.
Navy Times had more about this Tuesday:
The petition was organized by two U.S. service members serving in Iraq, Navy Lt. Jason Nichols, serving in Baghdad, and Minnesota National Guard Staff Sgt. David Thul, who is conducting convoy operations in Iraq with the 34th Infantry Division.

[…]

Rep. John Boehner, R-Ohio, the House Republican leader, and Sen. Lindsey Graham, R-S.C., a member of the Senate Armed Services Committee, will receive the petition, and use the event as another opportunity to criticize Democrats who control the House and Senate for trying to impose a withdrawal timetable on Iraq combat operations.

"No one knows the stakes in this war better than the men and women who face, and have faced, our enemies on the front lines," Boehner said. "They understand that the security of current and future generations of Americans may be dictated by the actions Congress takes today, and I commend them both for their service and for going above and beyond the call of duty to ensure that their mission is given chance to succeed."

[…]

About 60 percent of the 2,700 signatures on the Appeal For Courage petition come from service members who are serving or have served in Iraq, with about two-thirds enlisted members and one-third officers. The signatures were gathered over about a month.

The petition states: "As an American currently serving my nation in uniform, I respectfully urge my political leaders in Congress to fully support our mission in Iraq and halt any calls for retreat. I also respectfully urge my political leaders to actively oppose media efforts which embolden my enemy while demoralizing American support at home. The War in Iraq is a necessary and just effort to bring freedom to the Middle East and protect America from further attack."
Those interested can view the entire petition at the Appeal For Courage website.
Finally, from what I can tell, apart from military publications, the only major media outlet to cover this event Wednesday other than National Review Online, Human Events, Town Hall, and Power Line was Investor's Business Daily.
I wonder why.
Of course, none of that will matter when "60 Minutes" interviews members of this outstanding group in an upcoming installment.
I can't wait.