In an effort to criticize President Donald Trump's proposed border wall -- which has been approved for the construction of eight prototypes made of concrete, steel or other materials -- the liberal MSNBC channel sent reporter Jacob Soboroff to check the progress of the project but instead proved the wall is still needed on the border between the U.S. and Mexico.
The prototypes are nearing completion and must satisfy several guidelines. For instance, concrete walls have to be 30 feet tall while walls made from alternate materials have to be 18 to 30 feet tall. In addition, the prototypes are being built between two existing border fences on the U.S.-Mexico border.
According to an article written by the Washington Free Beacon's Andrew Kugle, Soboroff was interviewing border patrol agent Roy Villareal when three migrants were caught on camera crossing over the existing fence into the United States.
One of those people was a girl with a pink backpack, and she and the two other immigrants turned themselves in to Border Patrol officers on horseback in the background.
When Soboroff noticed the people crossing the border "in the middle of the day," he asked Villareal: "So can you explain to me what's going on?"
The border agent replied:
This is the reality of everyday border enforcement. The United States is the draw for people with dire situations where they're at.

We are going to continue to witness this. It plays out on a regular basis for us.
Kugle noted that the segment also showed Soboroff going to the Mexican side of the border and demonstrating how easy it is to cross the border under current conditions
"Is the new big wall going to stop Mexicans from coming to the U.S.?" Soboroff asked one resident. "I don't know why Donald Trump is so obsessed with this unnecessary waste of money because there will always be a way to cross, to be in [the United States] working," the individual replied.
That video caught the attention of the hosts of Fox & Friends, who showed that segment of the footage on Tuesday morning after co-host Steve Doocy stated:
It wasn't fake news on MSNBC. it was real news, and they accidentally proved why Donald Trump was right.

We need a wall because as the reported was doing the report, three people jumped over it.
At the conclusion of the video, co-host Brian Kilmeade declared: "They might as well have a trampoline on the other side. What's going on?" David Bossie, former deputy campaign manager for Donald Trump's presidential campaign, replied: "MSNBC went down there to do one story, and they came away with another. The facts got in the way of their very good dishonest story, and that's what this is about."
"Look, the president's right," Bossie continued. "We need a wall, and that's an exact reason why, a perfect example."
Later that day, Soboroff angrily tweeted a thread about how the Fox News Channel program "trashed our report from border wall prototypes b/c asylum-seekers jumped as we were there."
Time out. How does he know that these were definitively "asylum-seekers" other than what they initially said when they jumped the border? It's a fair assumption that most illegal immigrants claim they're simply "asylum-seekers" and thus should be allowed to go about their merry way.
He also complained that "Doocy starts by saying our report 'accidentally proved why Donald Trump was right. We need a wall,' which is the first of many lies."
Soboroff then contradicted himself by claiming the "first lie" instead was when "they play 38 seconds of a 3 minute report & say 'DURING MSNBC LIVE REPORT.' It was a *taped spot* & we chose to include jumpers."
He continued on with his thread: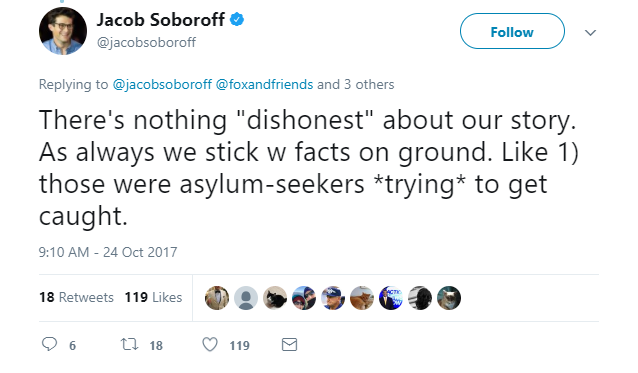 He continued: "CBP (the U.S. Customs and Border Protection agency) says in our full story, that FOX didn't play, 'we don't have any intentions of fencing off the entire SW border. It's not necessary.'"
"They also left out the part of the report saying apprehensions along entire border are about to set record lows *without* Trump's wall," Soboroff added.
"Then: REPORTER'S REAL WORLD LESSON on screen, like our story proves need for wall, the MSNBC reporter stated. "What I heard from CBP is why we don't need full wall."
Two tweets later, Soboroff argued: "They also, in text, call our story BORDER HIT PIECE. Laughable. The takeaway is the CBP is *doing great* at keeping crossings low!"
If a picture is worth a thousand words, then the video of three people crossing the border while a patrol officer on camera is calling that incident "everyday border enforcement" is visual proof that the border wall is still needed.