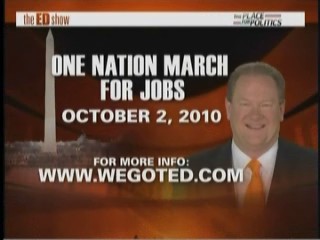 Ed Schultz on Friday predicted that more than 300,000 people would attend Saturday's "One Nation" rally in Washington, D.C.
This wasn't the first time he made such a bold forecast, for on August 31 just days after Glenn Beck's successful "Restoring Honor" rally, Schultz arrogantly boasted on his radio program, "I could get the Service Employees International Union, I could get AFSCME, I could get all these -- I guarantee you, I could do more than 300,000!"
Clearly, this guarantee wasn't worth much as pictures show Saturday's event receiving far less attendees than the Beck gathering in August.
But before we get there, here's what Schultz said at the end of Friday's "The Ed Show" (video follows with transcript and commentary): 
ED SCHULTZ, HOST: Tonight in our telephone text survey I asked you, should any group or any one be excluded from tomorrow`s One Nation march on Washington? Ten percent of you said yes, 90 percent of you said no. Before I go tonight, I want to take just a moment one more time to tell you that the mission of the One Nation march, you can see it on my website at wegoted.com. It`s the mission statement. It has all the logistics for you right there. There is going to be more than 300,000 people there tomorrow and we are pretty excited about it. I`ll be a featured speaker there as there will be many on stage. For more information on the march, you can go to wegoted.com. That`s THE ED SHOW. I`m Ed Schultz.
Well, the high estimates for Beck's rally was 300,000. Here's what that looked like: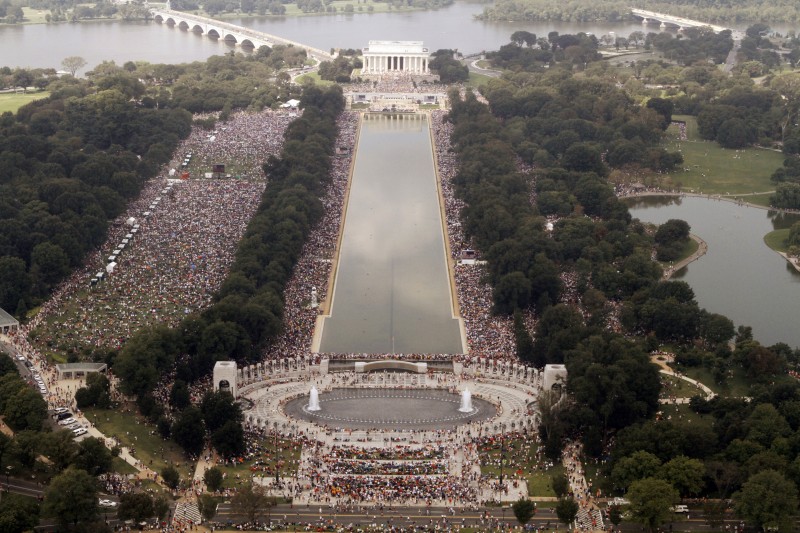 And here's the crowd at "One Nation" Saturday:
Seems far less than half, doesn't it?
Nice call, Ed. Bravo!