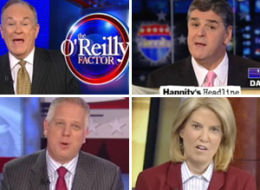 As the Fox News Channel continues to be berated by America's new president along with his Party and liberal media minions, the cable network keeps drawing in more and more viewers.
In fact, it has been the second most-watched ad-supported cable network for nine straight weeks, and now sports the top eleven cable news programs.
Adding insult to injury, TVNewser reported Tuesday that FNC is now attracting more viewers than CNN and MSNBC combined:
How's this for cable news domination - Fox News beat CNN and MSNBC combined in every hour from 6amET to MidnightET in both Total Viewers and the A25-54 demo for April 2009. [...]

From 9amET on, every program grew by more than 60% in the demo. The 5pmET hour, now occupied by Glenn Beck, is up 212% in the demo and up 128% in Total Viewers. Your World with Neil Cavuto is up 102% in the demo and up 60% in Total Viewers. On the Record with Greta Van Susteren is up 75% in demo and up 55% in Total Viewers. Also in demo: FOX Report is up 75%, Special Report 70%, The O'Reilly Factor 74% and Hannity 64%.

Fox & Friends has now been #1 for 90 consecutive months, Studio B with Shepard Smith for 80 consecutive months.
Awfully impressive, wouldn't you say? But it gets better, for MediaWeek reported Monday that FNC is gunning to replace USA as the number one cable network:
Naturally, Fox News says that second place isn't good enough. Even after taking the silver among ad-supported cable in the first quarter of 2009, averaging 2.26 million total viewers to USA Network's record delivery of 3.26 million, the channel won't rest until it has reached the summit. In short, FNC wants to win the prime-time ratings crown outright, and as the upfront season approaches, its ad sales team is trumpeting that message to media buyers.
As the Huffington Post reported Tuesday, FNC narrowed the gap further in April averaging 2.350 million total viewers in primetime compared to USA's 3.044, a difference of only 694,000.
Can you imagine what liberals will think if FNC actually becomes the #1 ad-supported cable network?
Speaking of which, Headline News's Nancy Grace actually beat MSNBC's Keith Olbermann this month in the all important 25 to 54-year-old demo. 
Nice job, Keith.
For those interested, here are the top 20 cable news program in April:
1. "The O'Reilly Factor" (Fox News): 3,498,000 total viewers
2. "Hannity" (Fox News): 2,566,000 total viewers
3. "Glenn Beck" (Fox News): 2,230,000 total viewers
4. "On the Record with Greta van Susteren" (Fox News): 2,173,000 total viewers
5. "Special Report with Bret Baier" (Fox News): 2,047,000 total viewers
6. "The Fox Report with Shepard Smith" (Fox News): 1,915,000 total viewers
7. "The O'Reilly Factor" (Fox News, repeat): 1,723,000 total viewers
8. "Your World with Neil Cavuto" (Fox News): 1,520,000 total viewers
9. "America's Newsroom" (Fox News): 1,505,000 total viewers
10. "Studio B with Shepard Smith" (Fox News): 1,314,000 total viewers
11. "Happening Now" (Fox News): 1,247,000 total viewers
12. "Countdown with Keith Olbermann" (MSNBC): 1,237,000 total viewers
13. "The Live Desk" (Fox News): 1,210,000 total viewers
14. "Larry King Live" (CNN): 1,093,000 total viewers
15. "Anderson Cooper 360" (CNN): 1,058,000 total viewers
16. "The Rachel Maddow Show" (MSNBC): 1,042,000 total viewers
17. "Situation Room" (CNN): 898,000 total viewers
18. "Lou Dobbs Tonight" (CNN): 826,000 total viewers
19. "Campbell Brown: No Bias, No Bull" (CNN): 786,000 total viewers
20. "CNN Newsroom" (CNN): 725,000 total viewers