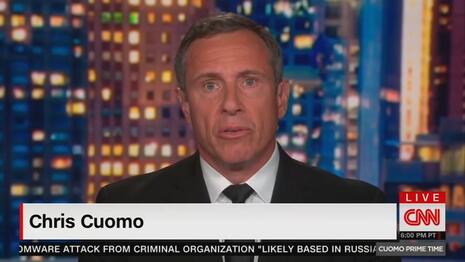 Wouldn't it be nice to have two summer vacations? That's supposedly the deal CNN Prime Time host Chris Cuomo conveniently struck with the network as details emerged about how entrenched he was in his brother, Governor Andrew Cuomo's (D-NY) sexual and criminal misconduct, and calls for Chris to go grew louder. And this second vacation came just three weeks after his last one (July 19-23). But they have an excuse for it.
Cuomo didn't even finish off the week. Instead, he had CNN weekend hos Michael Smerconish fill-in to helm his "Prime Time Covid command center" on Friday, August 6. And Smerconish upheld the timeslot's ethically dubious tradition of not mentioning Andrew Cuomo's bad news.
As for what would be filling in for Cuomo during the week, Fox News's Joseph A. Wulfsohn reported on Saturday:
CNN announced on Friday that it will be airing a one-hour special Monday on Rep. Alexandria Ocasio-Cortez, D-N.Y., in the 9pm ET timeslot belonging to its embattled anchor Chris Cuomo, who reportedly will be going on a "long-planned vacation" amid the scandals plaguing him and his brother, Democratic New York Gov. Andrew Cuomo.
Now, to be fair, Cuomo took the week of August 9 off last year to celebrate his birthday. The Hill reported that he planned to spend the day with his family and fellow CNNer Don Lemon:
Chris Cuomo discussed his plans on a Thursday episode of his CNN podcast, "The Handoff," with co-host Don Lemon, explaining, "Every year I take my birthday week off."

"I'm looking forward to it," added Cuomo, who turns 51 on Monday.

Cuomo went on to say that Lemon would be joining his wife and children in the Hamptons, telling his co-host, "I'll be fishing, I'll be hanging out with you and I'll be making memories with the kids."
His birthday was Monday. But what would he be doing the rest of the week?
The vacation announcement came the day after The New York Times published a story about how a CNN executive had suggested to Cuomo that he should take a leave of absence if he wanted to help his brother.
"Earlier this year, CNN executives floated an idea to their star anchor Chris Cuomo. If he wanted to formally advise his brother, Gov. Andrew M. Cuomo of New York, on responding to the sexual harassment accusations that had engulfed his administration, he could take a temporary leave from CNN and return to the network later," the paper wrote.
CNN's continued lack of accountably with Cuomo was drawing the ire of many in the industry. As the director of the Center for Journalism Ethics Kathleen Bartzen Culver wrote in USA Today, the day Cuomo announced his vacation, "When it comes to credibility and trust, people don't see individual reporters or news organizations. They see 'the media.' So when one journalist or outlet makes questionable choices, the tarnish can easily spread to others."
Adding: "Cuomo squandered his journalistic independence by getting involved in saving his brother's political career. But he also put a sword in the hands of people who would call journalists 'enemies of the people.'"
The network might argue they didn't pull Cuomo from his show last week because his vacation was coming up anyway. It's just another example of CNN's disregard for journalistic ethics. This is CNN.