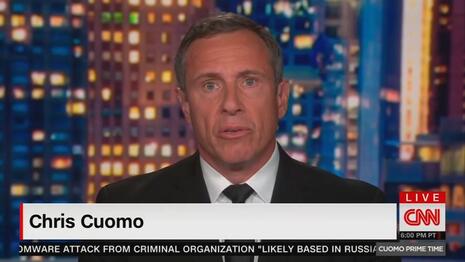 All the pieces are continuing to fall into place. After Tuesday's New York attorney general report corroborated previous reporting that CNN anchor Chris Cuomo had secretly advised his embattled brother, Governor Andrew Cuomo (D-NY), new reporting drew attention to the massive violation of journalism ethics as it became evident Chris helped his brother to malign his victims in a coordinated effort to survive sexual and criminal conduct scandals.
The revelations from the AG report had led to growing calls for Chris to resign or be fired by CNN. Meanwhile, both had been silent and refused to answer media inquiries seeking transparency, including those from NewsBusters. But despite their efforts to clamp down, word was getting out.
As a testament to how abhorrent Chris's conduct was, the calls for Chris to go transcended the political divide. Over on MSNBC, columnist Laura Bassett -- who got Chris Matthews canned for sexual harassment -- wrote a piece titled: "Biden calls on Andrew Cuomo to resign. He's not the only Cuomo who needs to go." And the calls even seemed to be coming from inside CNN's house.
While CNN media reporter Brian Stelter wasted words in his newsletter Tuesday night suggesting "some [CNN] staffers … were supportive of Cuomo on Tuesday, recognizing that no one chooses their family members," other CNNers felt the opposite and spoke with BuzzFeed News about their displeasure.
According to one CNN staffer: "The fact that Chris Cuomo wasn't fired over his inappropriate conflict of interest in actively affecting a news story is not only irresponsible of CNN, but also a disgrace to journalism."
One current CNN employee who was "the victim of workplace sexual harassment at another company," was disgusted with what Chris told his brother to say and do. They also called out the network's hypocrisy on sexual misconduct:
Another current CNN employee, who said they were the victim of workplace sexual harassment at another company, said what disturbs them most is not just that Chris Cuomo participated in the strategy calls for his brother — it's that he advised him to deny and ignore the allegations.

"Quite frankly, [it's] super hypocritical," this employee said. "Because this was a person that went on the air during the #MeToo movement, night after night after night, saying, 'Believe women,' and having courageous women on telling their stories."
In a story published Wednesday, The New York Times reported that an unnamed CNN executive had suggested to Chris that he should step away from his duties at the network to help his brother.
"Earlier this year, CNN executives floated an idea to their star anchor Chris Cuomo. If he wanted to formally advise his brother, Gov. Andrew M. Cuomo of New York, on responding to the sexual harassment accusations that had engulfed his administration, he could take a temporary leave from CNN and return to the network later," the paper wrote.
Adding: "The idea was informal and strictly optional — not a request — and intended as an acknowledgment of Mr. Cuomo's unique position as both a prime-time network anchor and the brother of a prominent politician facing a scandal, according to two people who spoke on the condition of anonymity to describe internal conversations."
But he didn't, and as NewsBusters explained last night, the timeline of events during the early days of the scandal breaking were very damning for both Cuomo and his network.
In mid-February, as the scandal broke open, CNN had reinstituted a ban on Fredo discussing stories regarding his brother. And as the AG report exposed, the CNN host had been sending e-mails to the Governor's legal and publicity teams with recommendations for an official statement on February 27 and 28.
But as the scandal gained steam with more of Andrew's victims coming forward, Fredo was forced to make a statement on his show explaining why he wasn't going to report on his brother. "Obviously, I am aware of what is going on with my brother. And obviously, I cannot cover it because he is my brother," he declared. But that was on March 1, the day AFTER he had sent those advisory e-mails.
At it wasn't until May 20, when The Washington Post reported that he was active in strategy calls, that Fredo admitted he had helped his brother. "Like you, I bet, my family means everything to me. And I am fiercely loyal to them. I am family first, job second," he said, without any explanation of just how closely he was working for his brother.
They might not be saying anything publicly, but their silence says everything. This is CNN: shameless. Can you blame the calls against him?