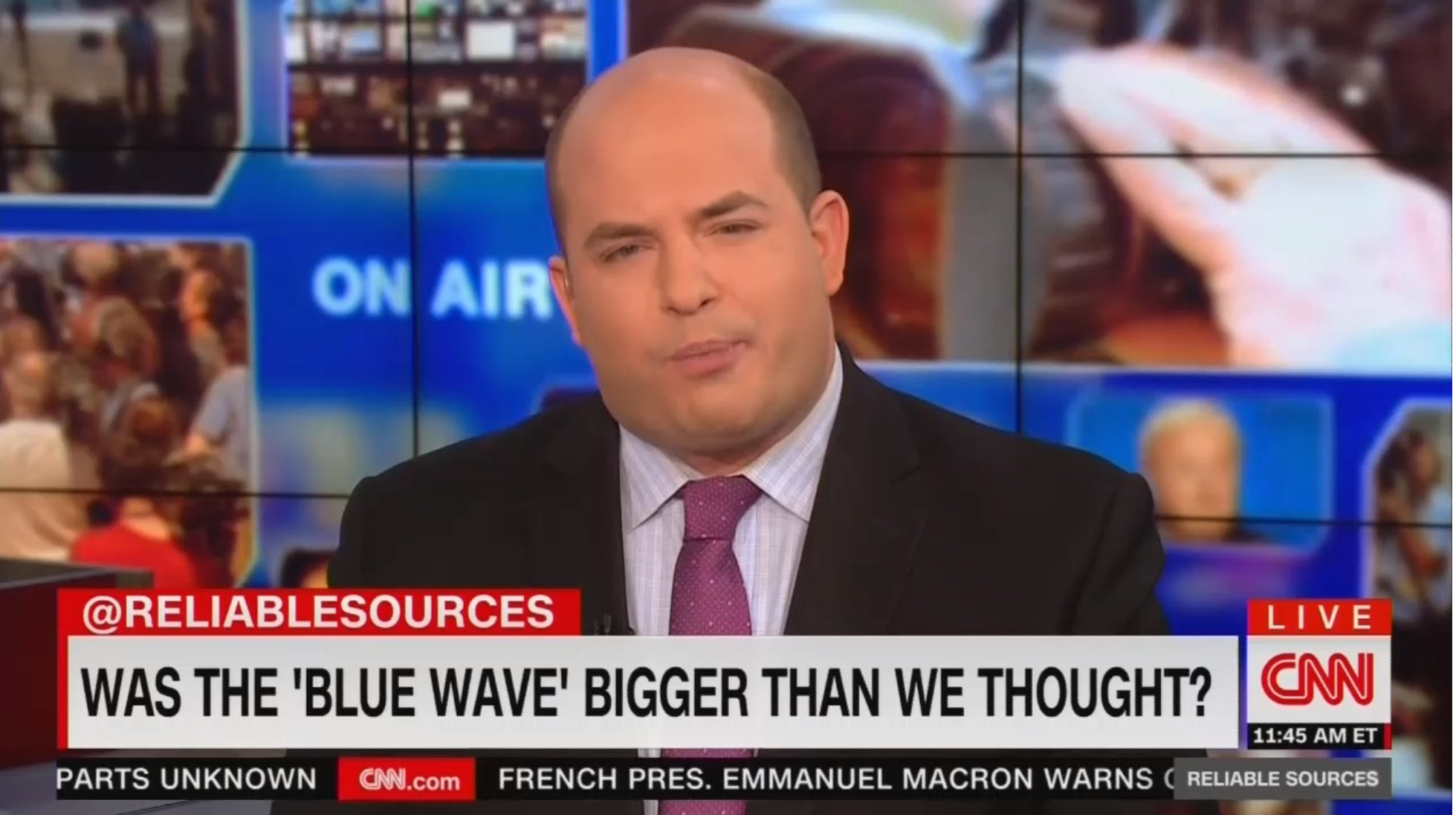 CNN media reporter Brian Stelter is known for saying ridiculous things seriously and pretending they're reasonable while leaving everyone else scratching their heads. He even once suggested it would be "okay" if CNN's ratings would plummet 40 percent after President Trump left office. Well, during Sunday's Reliable Sources, Stelter beclowned himself when he suggested the liberal media somehow "underplayed" the size of the so-called "blue wave" that supposedly swept the nation on Election Day.
"Did the news media underappreciate the strength of the blue wave in the House on Tuesday night? Five days later it sure looks that way," he began the segment by pompously declaring. "Back on Tuesday wave spotters said the midterms were not delivering the huge repudiation of President Trump that the Democrats wanted to deliver."
Stelter played a clip from his unhealthy obsession, Fox News. In the clip, Democratic commentator Juan Williams said it felt more like a "purple rain". "That's a good line, right," Stelter laughed, "and it reflects the Democrats disappointment about Beto O'Rourke coming short in Texas and the challenges in Georgia and Florida."
Meanwhile, there were some predictions that said the GOP would lose close to or more than 60 seats in the House. Not only did the GOP blunt that, but they also flipped three Democrat Senate seats and held onto key governorships. And months beforehand there were other predictions that suggested the GOP would lose the Senate.
Desperately looking for better results, Stelter noted: "Votes are still being counted in Arizona, and California, and other states and recounts are taking place. So it now appears the Democrats will pick up at least 35 seats in the House. I mean, here's the map already. They're already far ahead of the 23 they needed in the House."
After playing a soundbite of liberal CNN commentator Van Jones asserting that "this blue wave was actually bigger and bluer than actually it looked like at first," Stelter proclaimed that he decided "that's the story now, it's becoming more true every day." To back up that dubious retelling of history, he cited The Washington Post, which said, "Day by day, the outlook for Democrats in the House has improved." Now obviously the Senate is a very different story."
He reluctantly admitted "there was no blue wave in the Senate. We can debate how the governor's race has performed." But he then told viewers that we should "think about it this way" since the GOP was likely to lose 35 seats: "In 2006 the last time a Republican president faced a midterm referendum, the Democrats picked up 31 House seats. George W. Bush came out the next day and said it was a 'thumping'."
But back here, in reality, one the big reasons 2006 was a "thumping" for the GOP was because Democrats also took control of the Senate, which Stelter already admitted didn't happen this year. If Democrats picking up a total number of House seats in the mid-30s was a "blue wave", then someone needs to introduce Stelter to the midterm elections of 1994 and 2010 where the Democrats lost 54 and 63 seats respectively.
Only those who were really desperate and/or really partisan were the ones still trying to hold up that tattered "blue wave" banner. Hence Stelter's use of the Jones soundbite instead of say, someone like CNN's Jake Tapper.
Early on Election Night, Tapper was one of the few to quickly and openly admit that the "blue wave" didn't show up. "What's going on here tonight, this is not a blue wave. This is not a wave that is knocking out all sorts of Republican incumbents," he told CNN's, Wolf Blitzer.
Stelter's assertion was divorced from reality. This is CNN.
The transcript is below, click "expand" to read:
CNN's Reliable Sources
November 11, 2018
11:44:00 a.m. Eastern

BRIAN STELTER: Did the news media underappreciate the strength of the blue wave in the House on Tuesday night? Five days later it sure looks that way. Back on Tuesday wave spotters said the midterms were not delivering the huge repudiation of President Trump that the Democrats wanted to deliver. There's lots of talk about the red wall. This was the day after the narrative on Fox News. Watch.

JESSE WATERS: It was not the blue wave that a lot of people predicted, Juan.

JUAN WILLIAMS: With regard to the blue wave, I feel more like I got purple rained.

STELTER: That's a good line, right, and it reflects the Democrats disappointment about Beto O'Rourke coming short in Texas and the challenges in Georgia and Florida. But the election still isn't over. Votes are still being counted in Arizona, and California, and other states and recounts are taking place. So it now appears the Democrats will pick up at least 35 seats in the House. I mean, here's the map already. They're already far ahead of the 23 they needed in the House.

"Day by day," The Washington Post notes, "the outlook for Democrats in the House has improved." Now obviously the Senate is a very different story. There was no blue wave in the Senate. We can debate how the governor's race has performed. But in the House something big happened, but we didn't know it necessarily on Tuesday night. For example, here's CNN's Van Jones on Tuesday night versus Saturday night.

VAN JONES: This is heartbreaking, though. It's heartbreaking. It's not a blue wave but it's still a blue war. [Transition] In the end this blue wave was actually bigger and bluer than actually it looked like at first.

STELTER: He's right. That's the story now, it's becoming more true every day. Think about it this way. In 2006 the last time a Republican president faced a midterm referendum, the Democrats picked up 31 House seats. George W. Bush came out the next day and said it was a thumping.

(…)

STELTER: This year the Democrats are going to pick up at least 30 seats, likely 35 or more. Sorry, they've already picked up 30 seats. Likely to end up picking up 35 or more. President Trump spun the results, though, as a big win for his party. It was nonsense, but do people really know what the real results were?

(…)