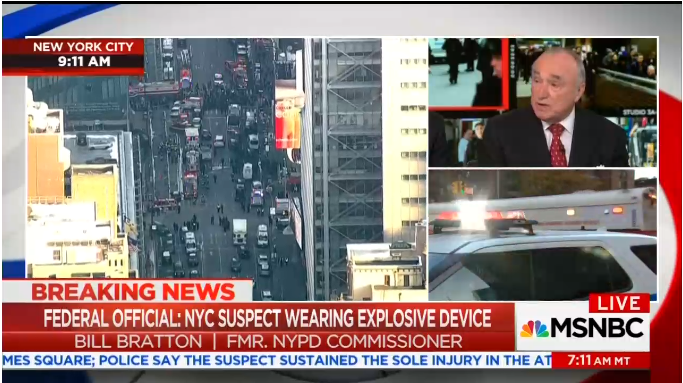 As information was still coming in regarding Monday's attempted terror attack in the New York City subway, an MSNBC panel discussing the news ridiculously shifted the topic to outrage over guns and gun crime in the U.S. And on top of that, they bemoaned how President Trump would try to make the attack an immigration issue to support his temporary travel ban.
The person responsible for kicking off the gun discussion was former NYPD Commissioner Bill Bratton. After commenting on how few terror attacks have hit the U.S. since 9/11 (missing a few as he rattled them off), he opined:
We will continue to prevent a lot of them. But the reality is they're going to keep coming. And whether they've inspired, enabled or directed. But the sad reality in our country also is we're sitting here talking right now, no loss of life here this morning, tremendous disruption. But someplace in America today, some nut with a gun is going to go out and kill three or four people. Every day we have a mass shooting in this country.
"This is such a good point," host Stephanie Ruhle praised. She was quickly cut off by anti-Trump Republican, MSNBC political analyst, and New York Times columnist Bret Stephens who was worried about the attack's effect on immigration. "I suspect someone is, you can guess, is going to want to turn this into an immigration story. This is not a story about lax immigration rules," he said. "Does that someone's name rhyme with shmump," Ruhle childishly asked.
Stephens went on to complain that Trump's view of terrorism was harming the way law enforcement thwarted terrorism because it damaged community relations. "That can't take place when you're demonizing entire categories of people or suggesting that because someone may have come as an immigrant that we should just bar the door to immigration from all Muslim countries," he declared, falsely claiming the travel ban was applied to all or only Muslim counties.
At one point, Ruhle couldn't get her head around why Americans were afraid of terrorist attacks:
Then why when you talk to people across America are they so concerned about national security? When you talk about all of the possible terror plots that have been thwarted, and the number really is low, it doesn't seem like America feels like the number's low. It seems like America thinks it's out of control.
"Look, this is exactly it. And I think commissioner Bratton puts it exactly in perspective. We just had a mass shooting in Las Vegas in which 58 people were killed and we act as if -- it almost never happened," Stephens responded, again bringing the discussion back to guns. "This has become a tool of political convenience. And people ought to stop and say just look how successful policing is, has been throughout the United States to stop terrorism."
"Let's look at these things in their right perspective. Because there's a serious loss of perspective at the country," Stephens spat, before Ruhle cut away to introduce another guest.
They want to talk about the "right perspective," but clearly the only perspective they think is right is their anti-gun one, and they'll use every opportunity to push it. They're in the middle of reporting on an attempted bombing of a subway station and they want to focus on guns. Talk about a warped perspective.
Transcript below:
MSNBC Live
December 11, 2017
9:11:13 AM Eastern

BILL BRATTON: But in the whole country since 9/11, the number of deaths committed by terrorists has been a relatively small number. We've had Orlando. We had San Bernardino. We had the Boston marathon bombing. Then we certainly had our most recent event that took those lives down at the Hudson River but we have prevented a lot of them. We will continue to prevent a lot of them. But the reality is they're going to keep coming. And whether they've inspired, enabled or directed. But the sad reality in our country also is we're sitting here talking right now, no loss of life here this morning, tremendous disruption. But some place in America today, some nut with a gun is going to go out and kill three or four people. Every day we have a mass shooting in this country.

So while we need to focus a lot of attention on terrorism because it attracts so much attention, at the same time we're a country that's losing tens of thousands of citizens every year to gun violence. And we don't seem to be able to get control of that in the way we've gotten control of the terrorism issue.

STEPHANIE RUHLE: This is such a good point.

BRET STEPHENS: I suspect someone is, you can guess, is going to want to turn this into an immigration story. This is not a story about lax immigration rules.

RUHLE: Does that someone's name rhyme with shmump?

STEPHENS: Maybe. And I think that's a point it's important to put out very early to the extent that these attacks are thwarted as so many of them are, they rely on very effective communication between the police and various communities. That can't take place when you're demonizing entire categories of people or suggesting that because someone may have come as an immigrant that we should just bar the door to immigration from all Muslim countries.

RUHLE: Then why when you talk to people across America are they so concerned about national security? When you talk about all of the possible terror plots that have been thwarted, and the number really is low, it doesn't seem like America feels like the number's low. It seems like America thinks it's out of control.

STEPHENS: Look, this is exactly it. And I think commissioner Bratton puts it exactly in perspective. We just had a mass shooting in Las Vegas in which 58 people were killed and we act as if -- it almost never happened. There's -- what happened to legislation to at least stop bump stocks from turning semiautomatics into automatic weapons? This has become a tool of political convenience. And people ought to stop and say just look how successful policing is, has been throughout the United States to stop terrorism. Let's look at these things in their right perspective. Because there's a serious loss of perspective at the country

(...)