On Wednesday afternoon, Media Research Center president Brent Bozell and the staff of NewsBusters awarded Washington Free Beacon video editor David Rutz the second annual Noel Sheppard Media Blogger of the Year Award at MRC's headquarters in Reston, Virginia.
The award was created in 2015 to honor the late Noel Sheppard who was the longtime NewsBusters associate editor after having been a founding blogger of NewsBusters.org. Tragically, Sheppard passed away following a bout with cancer in March 2014. 
Speaking to NewsBusters staff and distinguished colleagues from the Free Beacon, Bozell presented Rutz with an engraved award in addition to a $5,000 check from the MRC.
Just six years ago, Rutz graduated from Vanderbilt University. After a couple of years covering sports in Atlanta, he moved to the DC area. He quickly became a star at the Washington Free Beacon where he's both a blogger and the video editor, best known for his "super cut" video mash-ups which creatively illustrate silliness in the media.
<<< Please consider helping NewsBusters financially with your tax-deductible contribution today >>>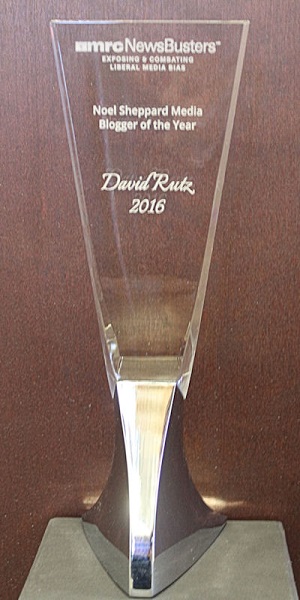 Rutz is a comrade-in-arms for NewsBusters. He regularly documents liberal media bias and highlights news the liberal media want to avoid. Here's just a sampling of his posts: 
    > Gowdy Lays Out What Answers Clinton Hasn't Given on Private Email, Deletion Practices
    > Mitchell Stammers that Bill Clinton Gave 'Faulty Deposition' in Paula Jones Case
    > 'Black Lives Matter' Cries Interrupt DNC Moment of Silence for Slain Policemen
    > Matthews Rips Benghazi Victim's Mother: 'I Don't Care What That Woman Up There … Has Felt'
    > MSNBC's Thomas Roberts Gushes Over Wendy Davis' Pink Sneakers After Abortion Ruling
Presented annually, the Noel Sheppard Media Blogger of the Year Award is given to "the blogger who best reflects the spirit of Noel Sheppard's energetic blog postings in pursuit of exposing the news media's liberal political agenda. This is best demonstrated by documenting their distortions, highlighting facts the public would otherwise not learn and advancing conservative perspectives in the blogosphere."'
Rutz became the second award winner following The Federalist's Mollie Hemingway being bestowed with the inaugural nod at an August 2015 reception to mark the 10th anniversary of NewsBusters.