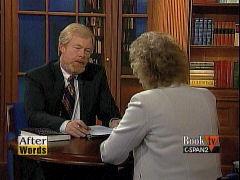 At 8:00pm Eastern, C-SPAN2 will air an interview that the MRC's L. Brent Bozell conducted with Mary Mapes, the fired CBS News producer who was behind the story that led to last year's Memogate scandal.
Use this thread to comment on "After Words" following its broadcast.
UPDATED with video, 3am EST Sunday. Video excerpt #1 (2:39 in length): Real (4.4 MB) or Windows Media (5.2 MB). Video excerpt #2 (3:44 in length): Real (6 MB) or Windows Media (7 MB).
Reminder: The entire hour-long show will re-air twice Sunday on C-SPAN2/Book TV. By time zone: EST: 6 and 9pm; CST: 5 and 8pm; MST: 4 and 7pm; PST: 3 and 6pm.