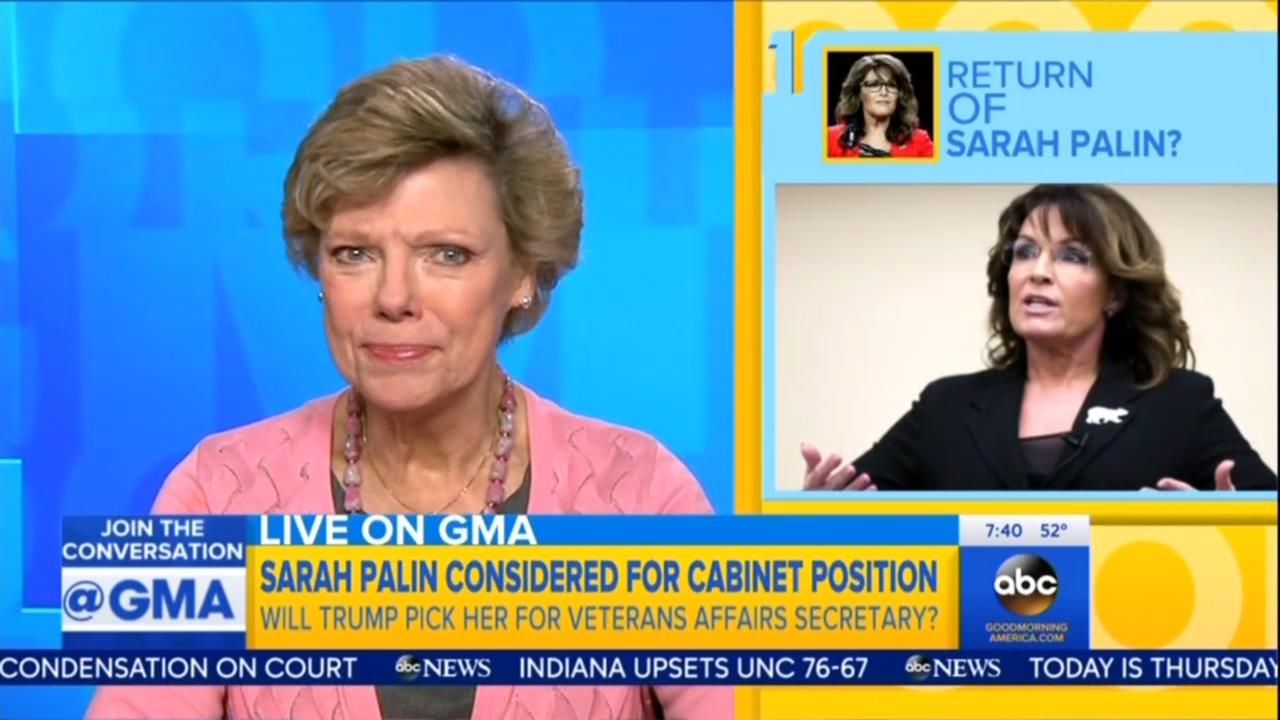 ABC commentator Cokie Roberts rudely dismissed former Governor of Alaska and John McCain running-mate Sarah Palin as "a laughingstock" on Thursday's Good Morning America. Discussing rumors that Donald Trump is considering Palin for Secretary of Veterans Affairs, anchor Robin Roberts brought in longtime journalist Cokie Roberts to get her thoughts on the potential pick. Cokie was dismissive from the start, bashing Palin as a joke and predicting she would be a problem in Congress.
Cokie began the segment by talking about how Palin was sharing ABC reports that she might become the cabinet pick, before dismissing Palin as a joke of a candidate.
COKIE: I have to say, Robin, that fair or not she has become basically a laughingstock and Donald Trump was so adamant throughout the campaign about the great care that he was going to show to veterans that putting her in that position could be a problem for him.
<<< Please support MRC's NewsBusters team with a tax-deductible contribution today. >>>
Robin Roberts jumped in to ask then if Palin would "have trouble with Congress." Of course she would, Cokie responded.
COKIE ROBERTS: Sure, she is. I mean, absolutely. She's -- you know, she's a very controversial figure.
Cokie then mentioned how McCain wouldn't want to vote on her in Congress but would feel obligated to since he had picked her as his running mate in 2008. "That would be a tough situation," Robin Roberts chimed in, in agreement.
Palin has always been a target of the media, who seem to take great pleasure in mocking her at every turn. But for every 'controversial' Republican politician there's a Democrat politician who the media ignores, like DNC Rep. Keith Ellison, who has been accused of having ties to radical Islam and once suggested making a separate country for blacks.