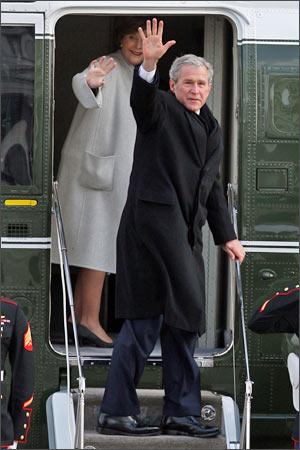 In addition to his regular pundit responsibilities at Fox News and sometime column in the Wall Street Journal, Karl Rove has taken it upon himself to do the job of the MSM--reporting the news.
Yesterday, my colleague, Noel Sheppard, noted the lack of coverage of President George W. Bush's homecoming in Texas. Only Fox News was present to cover what was, in Sheppard's words (and I agree), "one of his finest speeches ever." Thanks to Fox News, we have documentary evidence of this speech.
Were it not for Karl Rove, we might not have any similar evidence of President Bush's hearty farewell at Andrews Air Force Base. From Greg Pallowitz at NRO's Media Blog, video after the jump.
Click here and here for additional video footage of President Bush's Andrews Air Force farewell.