Here is the Associated Press's report on an intercom incident at a southern New Jersey Wal-Mart store
as of 7:03 a.m. Saturday
(text at link will likely change):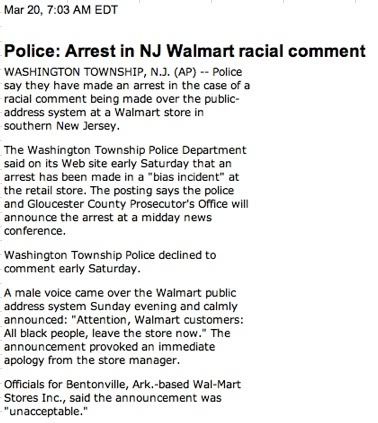 Naturally, most readers will believe that some Wal-Mart associate thought he was being "cute." That's because "somehow" the wire service "forgot" to reveal a key element of the story that as of 7:03 a.m. Saturday had been known for at least eight hours: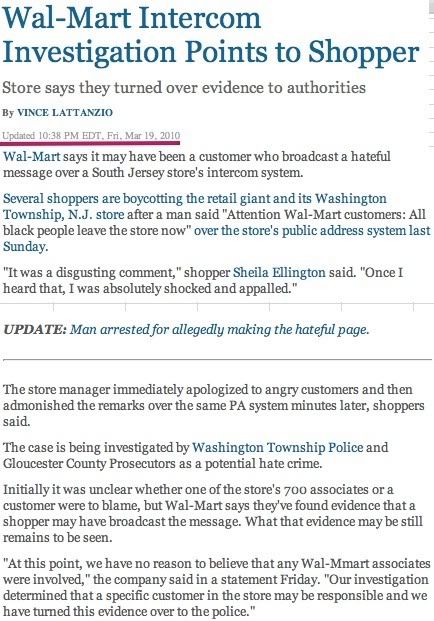 A report time-stamped at 8:25 a.m. Saturday at NBC Philadelphia covering the person's arrest repeats the company's contention concerning evidence that the person who committed the act was not a store associate.
The story's placement in AP's raw news feed (shot taken at about 9:30 a.m.) would seem to indicate that the story's 7:03 a.m. version was either a significant revision to an existing story or a fresh one: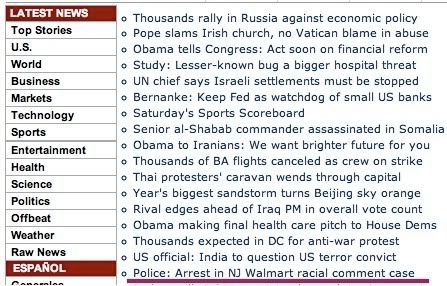 Gosh, if I didn't know better, I'd think that the AP was keeping information from its national readers and subscribers in an attempt to make a favorite target of the left look bad.
Those hallowed keepers of the journalistic flame at the self-described "Essential Global News Network" wouldn't do that ... would they?
UPDATE: The AP's 10:33 iteration carries the company's contention --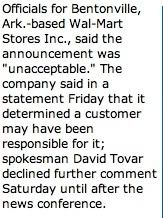 This NewsBusters post went up at 10:06 a.m. Hmm. 
UPDATE, 1:30 p.m.: It's a 16 year-old kid, which explains why officials were, according to NBC Philly, so initially "tight-lipped":
Police have arrested a 16-year-old boy in the case of a racial comment that was made over the public-address system at a Walmart store in southern New Jersey.

Police said Saturday the Atlantic County teenager was arrested Friday on charges of harassment and bias intimidation. They say he's been released to the custody of his parents.
So what's the kid's ethnicity?
Cross-posted BizzyBlog.com.