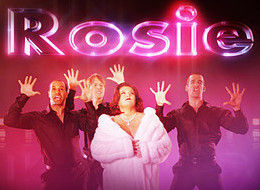 Here's something to be thankful for: Rosie O'Donnell's variety show flopped BIG TIME Wednesday night.
All together now: Awwwwwww!
As James Hibberd of The Hollywood Reporter wrote Thursday morning, "Rosie O'Donnell gave NBC a real turkey."
According to the numbers, that's an understatement:
A mere 5 million viewers tuned in for the 8 p.m. premiere of "Rosie Live," with the program earning a 1.2 preliminary adults 18-49 rating. The telecast matched ABC's recently canceled "Pushing Daisies" as the night's lowest-rated program on a major broadcast network.  [...]

Critics were not kind. The NY Times described it as "hokey comedy with an enemies list." TV Guide called it a "ghastly ego trip." And the LA Times asked, "Rosie, what on earth were you thinking?"
What indeed?
Potentially, Rosie's problem is that nobody's interested in her politics (readers are encouraged to review Tim Graham's earlier piece concerning this matter). Even the New York Times was displeased with Rosie injecting her personal opinions into a variety show:
Lame jokes are part of the holiday variety genre, along with campy production numbers featuring sexy dancers and cute little children. Celebrity score-settling, on the other hand, belongs to the self-obsessed blogging Facebook generation. Ms. O'Donnell, who frequently takes out her frustrations in a video diary on her Web site, would have been better served leaving herself behind and sticking to the classics.
Wow. When Rosie can't please the Times, it's not a good sign!
Maybe if you all say a special prayer as part of your Thanksgiving Grace, this will be the last we see of Ms. O'Donnell.