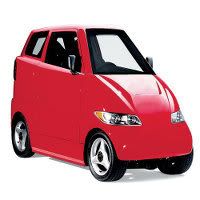 Yesterday at the American Enterprise Institute's Enterprise Blog, Steven Hayward had a great post about the history of electric cars, and the press's unrequited love affair with electric vehicles (picture at right is of the $108,000 2010 Zedomax). Yum.
But first I'll start with a bit of my own research. On May 7, 1994, Paul Feldman at the Los Angeles Times led with the following two paragraphs about a company that would begin producing electric vehicles:
Electric Cars Touted as Plant Opens

Environmentalists and businessmen used the dedication Friday of a Carson-area electric vehicle assembly plant to tout the fledgling industry the week before the California Air Resources Board votes on moving forward with its mandate for mass-produced electric cars beginning in 1998.

The opening of the U.S. Electricar plant, which can convert up to 60 cars a month, demonstrates that adequate technology is available for major manufacturers to build the mandated 20,000 to 25,000 emission-free cars yearly.
A visit to this web page at the "U.S. Electricar Store" informs us of U.S. Electricar's status (bolds are mine):
Since the factory closed, U.S. Electricar.net gives you the long lost solution to the parts and hardware repairs that your vehicle may need. I am dedicated to the promotion and longevity of all U.S. Electricar S10 and Prism vehicles. These vehicles may be 15 years old, but they are marvels of technology. U.S. Electricar vehicles have features that even modern EV's don't have! All you need is an old laptop to access the datalogging with the factory software!
Unless I'm missing something, the U.S. Electricar model described hasn't been with us since 1995. It would also be interesting to see how the Air Resources Board managed to claim victory and proved that their 1998 "mandate" worked.
Now let's get to parts of Hayward's electric history based on a recently released book (paragraph breaks added by me):
Robert Bryce's new book, Power Hungry, includes a nice roundup of media enthusiasm for electric cars going back a long way.

Here's the Los Angeles Times, May 19: "The electric automobile will quickly and easily take precedence over all other" types of motor vehicles. That appeared May 19 of . . . 1901. Or try the New York Times, which said in 1911 that the electric car "has long been recognized as the ideal solution" because it "is cleaner and quieter" and "much more economical."

Or this, from the Los Angeles Times again, this time in 1967: The Times quotes an executive from American Motors (didn't some guy named Romney run that?) saying the company was on the verge of producing an electric car called the Amitron, powered by lithium batteries capable of holding 33 watt-hours per kilogram (that's twice as much as today's lithium-ion batteries, by the way). Said the executive: "We don't see a major obstacle in technology. It's just a matter of time."

Did we miss the rollout of the Amitron, or did they decide the Pacer was just a better idea?
Earlier in his piece, Hayward noted a Chinese study indicating that "widespread use of electric cars in China would increase air pollution and greenhouse gas emissions," and asserts that going from gas-powered to electric-powered vehicles on a large scale "is unlikely to be as bright green as everyone thinks/hopes."
You probably won't see any of this in the establishment press, where electric "zero emissions" (yeah, right) salvation is always just around the corner.
Of course it would be great if electric vehicles could deliver on their promise. But if they could, it seems that some enterprising entrepreneur would have made it happen in a free market a long, long time ago.
Cross-posted at BizzyBlog.com.