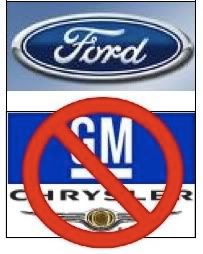 Government/General Motors announced today that it lost $4.3 billion during the second half of 2009 (actually from July 10 through the end of the year). A further look at that result will come later after yours truly has time to digest GM's 10K Report to the Securities and Exchange Commission.
What stood out even further for me about the announcement was GM's top line, i.e., global revenues. That figure came in at $57.5 billion.
Ford's revenues during the final two quarters of 2009 were $66.3 billion, or roughly 15% higher. GM's ten missing days in July would only explain about one-third of that difference.
It may be out there, but I haven't seen a lot of establishment media recognition that Ford is a bigger company worldwide than General Motors, and has been since the first quarter of last year. Given that GM was larger than Ford for about the previous 80 years, Ford's ascension to the top spot among US-based companies in worldwide revenues would ordinarily be what is known as "news."
In fact, though it is true that Ford's domestic unit sales still trail GM, the Associated Press's Dee-Ann Durbin still treated the overall smaller company as the kingpin in her coverage of GM's brief announcement today. Durbin also wrote as if the idea that the government-controlled company will be able to go public is a certainty, and threw in a laugher of a paragraph about how things are supposedly getting better at Chrysler, where year-over-year sales are still in decline (bolds are mine):
GM owes an additional $45.3 billion to the government. That will be repaid when GM makes a public stock offering, which Liddell says will happen "when the markets and the company are ready."

Liddell, who came to GM at the beginning of the year from Microsoft Corp., wouldn't say whether GM will make money in the first quarter, but said there's a good chance the company will make a profit in 2010 based on encouraging first-quarter sales and production. GM plans to release first-quarter results next month.

"I think there is a danger of overpromising and underdelivering," he said. "When we put the numbers on the board, we will come out and tell you about them."

GM, which remains the largest car company by sales in the U.S., saw a slight gain in U.S. market share in the first three months of this year compared to a year ago.

... Things are also on the mend at Chrysler Group LLC, which also went into bankruptcy protection last year and is now managed by Fiat SpA. Chrysler CEO Sergio Marchionne said last week that the automaker has $5 billion in cash on hand and expects to break even this year. Chrysler plans to provide more detailed financial results later this month.
According to the Wall Street Journal's monthly vehicle sales report, Durbin's final excerpted statement is so barely true that it wasn't even worth citing. GM's first quarter 2009 market share was 18.5%, while the first quarter of 2010 came in at 18.7%. Subtract out the effects of what was from all appearances a government- and media-orchestrated campaign against Toyota that had its worst effects during January and February, and GM's model lineup is in no way better than it was a year ago.
Cross-posted at BizzyBlog.com.