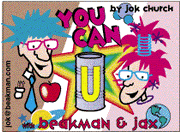 Liberal bias found its way into the comic strips on Sunday. "You Can With Beakman & Jax" is an educational strip that runs weekly and features answers to various science questions. The text heavy comic, which has 52 million readers and is syndicated in papers such as the Washington Post, took a shot at both religion and global warming skeptics in the October 5 edition.
Responding to question about how erasers remove pencil marks, strip writer/artist Jok Church cited an 18th century reverend, Joseph Priestley, who discovered that tree sap that could rub away pencil marks. Church wrote, "Back in the 18th century, Priestley was a reverend searching for proof in the natural world as a way of proving his religion. That meant he already knew what he wanted to prove and gathered evidence to support that belief. This is also how some folks now fight against ideas such as global warming."
The San Francisco Bay Times wrote about Church, whose comic was also the basis for the TLC program "Beakman's World," on June 26, 2008. According to writer Tom W. Kelly, "As a gay man and activist, he brings both a sensitivity free of gender pressure to each comic — 'I like to think of myself as an old-time feminist, the kind that did not say person-hole cover' — as well as an appreciation for the universe of possibilities for inquiring minds."
In the same article, Church spoke of the multi-colored star that appears in the logo of every comic strip. Kelly explained, "Church adds that he never receives hate mail from Jews, Muslims, etc.; only from Fundamentalist Christians who even complain about the five-pointed rainbow star backing the comic's title." (Note: There does not appear to be an archive of "You Can" online.)
In a May 30, 2003 chat with WashingtonPost.com, Church discussed battling with creationists and asserted, "I think that they [creationists] just aren't prepared for the beauty of how complicated the universe is."