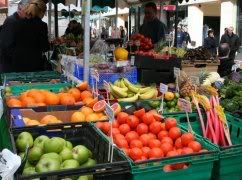 Your humble correspondent loves farmers markets. What's not to like? Great food at low prices. Plus it is a great way to sample the local produce at roadside stands while travelling around the country. Sadly farmers markets may soon become a thing of the past if a congressional bill, H.R. 875, is passed. According to Shepard on Politics and Policy, this bill, if enacted into law, "would essentially outlaw family farms in the United States." Unlike what is now congressional practice, Shepard actually reviewed H.R. 875 and here is his analysis of what he found:
Under a heading described as protecting the public health and ensuring the safety of food it creates a "Food Safety Administration" within Health and Human Services. Oddly, it doesn't just add regulations to the FDA (Food and Drug Administration) which is also under HHS. And don't we have the USDA as well? The bill applies to all manner of "Food Establishments" and "Food Production Facilities."

The bill would appear to even cover some fishing boats and potentially your downtown hot dog street vendors. "Transportion" of food also could be covered. In fact, the bill probably would also apply to your family garden since no exemption is apparent.

What it essentially does is place a tremendous regulatory burden on all of these organizations and individuals by requiring them to have "food safety plans", consider all relevant hazards [note: I wish Congress would consider all "relevant hazards" or unintended consequences of everything THEY did], testing, sample keeping and to maintain all kinds of records. The bill also allows the government to dictate all manner of standards related to fertilizer use, nutrients, packaging, temperature controls and other items.

This massive bloat in government regulation (and taxpayer expense to support it) would add additional cost and headache to every farm, some fishing boats, slaughterhouse, processing plant, CO-OP and anyone else associated with growing, storing, transporting or processing food. The bill authorizes fines of up to $1,000,000 (one million) dollars for "each act" and for "each day" of a violation.
Since small farmers probably would not want to work their way through the bureaucratic paperwork maze and risk such stiff fines, you can pretty much kiss goodbye to farmers markets if H.R. 875 passes. And who is sponsoring this legislation? None other than Congresswoman Rosa DeLauro (D) whose husband Stanley Greenberg is CEO of Greenberg Quinlan Rosner Research which includes agribusiness giant Monsanto as one of its clients.
This is currently a big issue with farmers who sell produce to the public so for Washington Post reporter Lon Aratani to write a "happy face" article  about farmers markets in Maryland without mentioning this dark cloud on the horizon threatening them is somewhat bizarre. However, rather than be a killjoy, I will present some of Aratani's farmers markets happy talk:
Representatives from farmers markets across Maryland gathered in Annapolis last week to exchange information and learn about new marketing strategies in anticipation of the spring selling season.

Maryland has more than 70 farmers markets that connect residents with local merchants and growers. Many farmers said they are hopeful that the push to buy local products will give their businesses a boost at a time when many farms are struggling to stay afloat. And, they said, they are optimistic that the growth they've had in previous years will continue.

...Officials with the state Department of Agriculture said it's too early in the season to predict how the markets will fare. But Amy G. Crone, a state agricultural marketing specialist, said her department has noticed an uptick in inquiries from people who want to start farmers markets or who are interested in some of the department's promotional programs.

Crone said the movement to encourage people to buy local to reduce their impact on the environment, coupled with recent food scares, could be a boost for farmers markets.

"People really want to reconnect with their farmers, so they know where their food is coming from," Crone said. "It's reassuring to be able to ask farmers how they grow their products."
It won't be so much fun asking farmers how they will sell their products if H.R. 875 is passed into law thanks the congressional wife of the man from Monsanto. And in stark contrast to the sunny picture painted about farmers markets by the Washington Post writer, here are some less than rosy comments about the future of farmers markets posted on "Will Congress kill farmers' markets?" at KnoxNews.Com:
I manage a farmer's market. There'll be a lot of civil disobedience by our vendors. It'll be interesting to see how this shapes up. Looks like the government wants us utterly dependent on a big-business supply chain, with no independent, small folks meeting market demand in the niches. Idiocy.

Even the evil old Soviet Union (even during the STALINIST period) allowed operation of the farmers' markets to meet the needs of the city dwellers for poultry, eggs, and fresh fruits and vegetables. If it wasn't for the stuff that the "Kholkozniks" (collective farm workers) were allowed to raise on their private plots and sell in the weekend markets, malnutrition would have been much more widespread in the USSR.

I thought I'd try my hand at growing veggies for the farmer's market and by selling my chicken's eggs. Last year was my first year. I learned a lot. I'm increasing my garden, but now, I see this. Are they even going to let me eat my own eggs and produce? I'm not crossing state lines to sell my produce - how on earth can the Feds tell me what to do?
So enjoy your fresh grown Indiana melons and sweet corn for now. Buying them at farmers markets and roadside stands may soon become impossible if H.R. 875 passes.