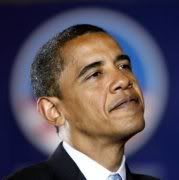 Yesterday your humble correspondent chronicled how Comcast is airing an all Obama all the time channel up through the inauguration to satisfy those you with the need to worship Barack Obama non-stop. Well, now MSNBC has gone above and beyond the call of duty in Obama glorification. According to Paul J. Gough of the Hollywood Reporter, that cable channel is making it possible for folks not satisfied to see the inauguration of The One on mere large screen televisions to watch the coronation on the biggest screens of them all in movie theaters around the country. MSNBC is also making sure you can see the source of Chris Matthews' leg tingle for free at the theaters (emphasis mine):
NEW YORK -- President-elect Barack Obama is on his way to the big screen, thanks to a deal between MSNBC and Screenvision that will put the news channel's inaugural coverage in 27 theaters around the country.

Free tickets are being handed out via MSNBC.com to see the inauguration and parade from 11 a.m.-3:30 p.m. ET at the 27 theaters run by 11 exhibitor partners in 21 markets. Midday Tuesday isn't necessarily a big movie time, so it helps to fill the theater -- and boost popcorn and soda sales -- at a time when it's not usually busy.

That means that Keith Olbermann, Rachel Maddow, Chris Matthews and other MSNBC and NBC personalities will play the big movie screen in addition to the usual MSNBC cable and satellite stream. MSNBC won't be in high-definition until the second quarter, but both the channel and Screenvision say the quality will still be high.

"It'll look great," MSNBC president Phil Griffin said. "We're thrilled about it."

Screenvision was approached by MSNBC last year about carrying the coverage in some of the same theaters that take Screenvision's preroll video, executive vp exhibitor relations Darryl Schaffer said. Since August 2007, Screenvision has had an alternative programming division that has exhibited New York Mets baseball games, operas and other events live via movie theaters. Schaffer said that Screenvision had the capability to do as many as 200 locations, though MSNBC was looking for a smaller event than that.

For MSNBC, it's a chance to continue the momentum that vaulted it into the fastest-growing channel in all of cable in 2008. That's the strategy, and Griffin said Monday afternoon to expect more in 2009 to build MSNBC's brand.

"We want to reach people we've never reached before," Griffin said. "We're going to do numerous things like that to get our name out there. Ubiquity is the name of the game in 2009."
Will MSNBC also be playing Handel's Messiah as background music at the movie theaters?