The upcoming issue of Newsweek has a cover story about former Alaska governor Sarah Palin.
Here's the picture with the headline, "'I Can Win": Sarah Palin on why she's so confident - and how she'll decide whether to run in 2012":
That sure is a heck of a lot different than the November 2009 Newsweek cover photo that generated so much outrage for the obvious sexist overtones: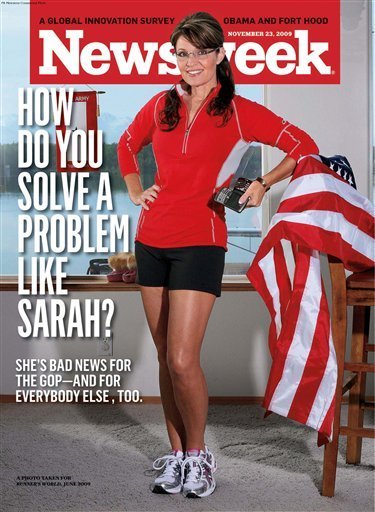 Lest we forget last month's pathetic cover of Mitt Romney:
When you compare the three, this most recent is certainly the best cover photo.
As for the contents, stay tuned.
*****Update: For those that are interested, the article to be available on newstands Monday has just been released on the internet. It's actually a good piece well worth the time.
As far as media issues are concerned, readers might find this interesting if not necessarily novel for her:
A campaign—even one as defiant of conformity as Palin's would likely be—would require expanding that circle to include political professionals of uncertain loyalty. And it would mean opening the door to news organizations with which she has been openly feuding for the last couple of years.
Or not.
"The mainstream press is becoming less and less relevant," she said, adding that she would have no hesitation in shunning media outlets she does not trust.
"I would say no to those who have lied about me. There is no need to reward bad behavior. I've learned. You know, once bitten, twice shy. I have learned."
Noel Sheppard
Noel Sheppard, Associate Editor of NewsBusters, passed away in March of 2014.