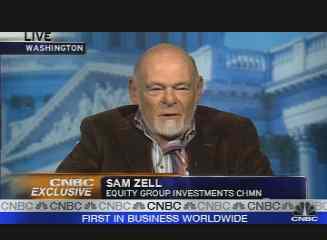 For years, NewsBusters and the Business and Media Institute have informed readers about how the press, since George W. Bush was first elected, have tried to create a self-fulfilling prophecy by misrepresenting economic data in as negative a way as possible.
This is likely the cause of the public's continued pessimism about economic conditions even as the economy has expanded for 25 consecutive quarters.
On Tuesday, in an interview on CNBC, Los Angeles Times and Chicago Tribune owner Sam Zell took this thinking a little further when he suggested to "Squawk Box" anchor Becky Quick that many of the economic problems facing the country today are caused by fear-mongering and politicking by Hillary Clinton and Barack Obama.
As reported at CNBC.com (video available here, h/t NBer Gat New York):
Speaking on "Squawk Box" this morning, Zell attributed much of the current economic troubles to fear-mongering and politicking by Democratic presidential contenders Hillary Rodham Clinton and Barack Obama.

"Obviously what we have going on is an attempt to create a self-fulfilling prophecy," said Zell, chairman of Equity Investments Group and owner of the Chicago Cubs, Chicago Tribune, Los Angeles Times and other companies. "We have two Democratic candidates who are vying with each other to describe the economic situation worse.

"The reality is that if you live on Wall Street and you're in the credit markets the world couldn't be worse. If you're a farmer and you're getting $25 for your wheat, you're having a great time. If you're a CEO and you've got a balance sheet that's bullet-proof, you're in a great position. This whole thing is way out of control, way out of hand."
Now that's delicious!
Noel Sheppard
Noel Sheppard, Associate Editor of NewsBusters, passed away in March of 2014.