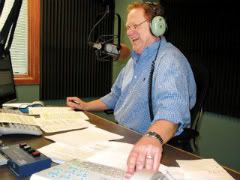 Nary a broadcast of his radio show has aired in months without libtalker Ed Schultz pounding the drums for his listeners to "buy American."
Apparently Schultz's pleas have fallen on at least two deaf ears -- his own.
Schultz recently told his listeners that he is now an "international businessman" after buying a fishing lodge in Manitoba (click here for audio) --
SCHULTZ:  Now, here's a good socialist story for you. My wife and I have purchased, I love to fish, I've fished all my life, I love it. And we have been going to Thunderbird Lodge in Manitoba since we been married and we love this place. I love it because I can fly my 210 into the airstrip right behind the lodge. It's got a 3,500-foot strip, gravel strip, right behind the lodge on Wrong Lake in Manitoba. And it was just easily accessible, I don't have to get in a float plane. It's exclusive on the lake, it's been a lodge for years, it was built by the natives back in 1975 for economic development and then it changed hands over the years, it's had a number of owners.

And the owner passed away about three years ago and it sat there and I approached the family and this winter, Wendy and I got it for a song. And we're excited about it and I love to fish and so that's what I'm doing.

But anyway, I guess we all have to have our castles, don't we, since we don't make any money, Glenn (Beck).  But anyway, so yes, no, it will, it'll take the Cheyenne, it'll take the 206, and we're going to, we've commercialized. I am now an international businessman. I have incorporated in Canada.
Which led to this quick rebuke from a listener that Schultz, to his credit, read on the air March 26 and even conceded was fair criticism before he reverted to form and became defensive (here for audio) --
SCHULTZ (initially reading email from listener): I've been a longtime follower and supporter of your show, Ed, but this hit me wrong. I thought always buy American was your mantra. How can that be when you buy a lodge in Canada? I know for a fact that there are numerous lodges for sale in the United States that would have loved your US currency. Really wished you would have helped out one of the fellow Americans that is struggling with their resort lodge.

(After finishing email) Well, you know, that's fair. I know exactly what you're saying, Jeff. And I knew there were going to be some people out there that were going to say, oh Ed, buy American. No, I am buy America, buy American, no question about it. But does that mean that I can't do whatever I want to do with my private money? I mean, I buy American engines, I take them across the border. I buy American boats, I take them across the border. And I pay a duty on them. I bought a Cessna 206 in America and we'll be flying it across the border and I'll pay tax on that.

I'm allowed one work permit, one American work permit, and I've got that designated, and I'll be hiring some native Canadians up there for guiding. Now, the buy-American thing. There's nothing, I don't see it as hypocritical at all because this isn't the only business that I have.
In other words, buy "some" American. Granted, not as pithy a bumper sticker. More apologia from Schultz --
SCHULTZ:  I could, you know, take what little bit of money I have and just get 1.7 percent on CDs or something or buy more gold or do whatever. But I do create jobs with the opportunity that I've been able to have in this country. E.A. Schultz Construction is in that town that's in the middle of nowhere (Fargo, N.D.), according to Glenn Beck and we've had a great off-season of bidding on contracts and being awarded contracts and we're increasing our payroll. ...
... and soon I'll be hiring Canadians instead of Americans. Hey, it's "buy" American, not "hire" American, at least not across the board during an economic slump. After mentioning that his construction company is run by his two stepsons and will do "millions of dollars of work" this year, Schultz came to this conclusion --
SCHULTZ: No, I'm not a hypocrite at all.
Unfazed by the listener's criticism, Schultz made this characteristic pitch to his radio audience on March 30 while talking about job losses in America from our trade deficit with China (here for audio) --
SCHULTZ: And so now, I believe that we need to rearm ourselves, number one with information, which I write about in my book, and we have to rearm ourselves with a spirit. No, I believe that. I think you have to have spirit. I think you have to believe. It's just like a team -- team spirit. It has to be in your heart that you believe that there's something to this buy American thing. I don't want to lose 2.4 million jobs again. I don't want to see this country lose.
Rah, rah, rah Captain America.
Whether Schultz is a hypocrite for his frequent harping to "buy American" while he prefers, for now, to buy Canadian, he's hypocritical in another regard. Schultz's new venture on the shores of the aptly-named Wrong Lake comes while he's been venting about something else -- reinstating the so-called "Fairness Doctrine" in an attempt to be "socialist all across the board."
Here's a thought, Ed. If you are actually concerned about the huge advantage enjoyed by conservatives over liberals on the radio, how about buying a radio station or two instead of a fishing lodge? Heck, who knows how many stations you could buy if you sold the Cessna and settled on one residence instead of two in New York City and Minnesota.
To paraphrase Gandhi, let the change begin with you. Or you can go fishing instead.