The Washington Post picked up the Missouri State Fair rodeo brouhaha on the front page Friday under the headline "Rodeo act put racial divisions on display."
Post reporter Philip Rucker painted by the leftist numbers, finding the same man NBC used to trash the audience as a "Klan rally" and highlighting Obama critics who sound racist. Rucker began with Virgil Henke, 65, "a livestock farmer who explained his distaste for Obama with several falsehoods."
"Why, he's destroyed this country. How much freedom have we lost? I don't care whether it's a black man in office, but we have to have a true-blooded American. I think he is Muslim and trying to destroy the country, catering to the Muslim Brotherhood in Egypt."
Surely, the Washington Post counts the "freedom we have lost" under Obama as crazy talk, along with Obama being a Muslim. Rucker went looking for racial animus: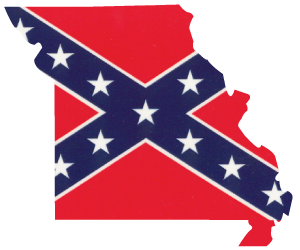 Whether the scene at the state fair was meant merely as mockery or something more sinister, there was no room for nuance among a dozen fairgoers interviewed Wednesday. There was near universal agreement that the incident was all in good fun, and disapproval of the president crossed into a deep, personal hatred, often tinted in racial terms.
"I was raised to think the blacks were bad; I'm not gonna lie. We lived on one side of the tracks, and they lived on the other," said Margaret Abercrombie, 68, who is white and grew up along the Mississippi River in Sikeston, Mo.
Abercrombie said she voted twice for Obama but didn't find anything wrong with the rodeo act. As she rode her motorized wheelchair to the grandstands at the rodeo arena, which on this day hosted tractor pull races, Abercrombie said the anti-Obama sentiments she encounters are based on race.
"You hear the farmers here, they just don't like him because he's black," Abercrombie said. Pointing across the fairgrounds to the cattle barns, she added, "I'm surprised they ain't got a cow over there named Obama."
The Wednesday crowd at the fair, which lasts 11 days in remote Sedalia, was overwhelmingly white. Some vendors played right-wing talk radio from boom boxes at their tents. One vendor sold "rebel pride" hats emblazoned with Confederate flags for $8 each. Another, who would only be identified as "Dennis the Sticker Dude" because he was afraid of government retaliation, hawked car decal stickers featuring a cartoon boy urinating on Obama.
Henke hesitated at first to provide his name, fearing that if he publicly criticized Obama the Internal Revenue Service would "be up my [backside] and at my door."
Henke said he sometimes surfs the Internet for Web sites making fun of Obama and his family. For instance, he said, one site he looks at compares "Obama's wife to a monkey — they have the same expression. The media makes it all hate. I don't hate a black person. It's just funny."
Rucker then turned to Perry Beam for the Klan comparisons:
In the stands, Perry Beam was so sickened by the scene he began recording it. "It reminded me of a [Ku Klux] Klan rally," Beam said. "It had that hateful aspect. It was the way they cheered, the anger in it. . . . You can disagree with a government policy, but that doesn't prompt you to put a stick up his [backside] and incite the crowd to say how many of you want to see him be trampled by a bull. To wish that on somebody is hateful."
If I were a reporter, I would ask Beam, "So this was like a KKK rally. How many of those have you personally attended?" Then I might ask if it was fair to suggest an entire rodeo audience are viciously racist, or whether they just came to see a rodeo.
Rucker and the Post are employing all the usual big-city media tropes. Wherever you find rednecks in an "overwhelmingly white" and "remote" milieu, disapproval of Obama must be proof of racially "tinted" hatred. A rodeo, a NASCAR race, a tractor pull, the rifle range? Natural racist magnets.
Rucker let a few people express that this was just humor and entertainment, but a reporter usually shows his point of view by how the story ends. Here's how Rucker wrapped up his portrait of Deeply Racist Missouri:
Bernadette Brock, 67, who was square-dancing at the fair, said the rodeo incident was nothing compared with anti-Obama displays at lower-profile events.
"Honey," Brock said, "if you had been in some of our counties down here, this was mild."