There are many annoying aspects of the sea change in media coverage of the economy since Barack Obama became president. At or near the top of the list is how the business press has downplayed the unprecedented housing industry disaster, while lowering the bar that will supposedly represent a real recovery to ridiculous levels.
According the the Census Bureau (12-page PDF), 23,000 new homes were sold nationwide in October. That figure ties August 2010 and December 1966 (when the population was 35% smaller) for is the lowest single month since records have been kept. More extensive evidence of how bad things are will come after the jump.
On Wednesday, the Associated Press's Martin Crutsinger provided as good an example as any of the press template for housing coverage -- acknowledge that, yes, things are really bad; give readers an absurdly low benchmark for what would represent real improvement and how long it should take to get there; locate some "expert" to say it's really not all that bad; and find some kind of anecdote somewhere, anywhere, that will leave the impression that things might somehow be getting better:
October new home sales drop 8.1 pct., prices fall

 

New home sales tumbled in October while the median home price dropped to the lowest point in seven years.

 

Sales of new single-family homes declined 8.1 percent to a seasonally adjusted annual rate of 283,000 units in October, the Commerce Department reported Wednesday.

 

It was the fourth time the sales rate has dropped in the past six months. New home sales are just 2.9 percent above August's pace of 275,000 units - the lowest level on records dating back to 1963.

 

Many economists believe it could take three years for the industry to get back to a healthy annual rate of sales of around 600,000 homes.

 

... Some analysts downplayed the drop in sales, saying that when the market is this low it is vulnerable to high volatility.

 

"Sales are bumping along the bottom, showing no real inclination to start recovering or, thankfully, to fall any further," said Ian Shepherdson, chief U.S. economist at High Frequency Economics.

 

... Despite the overall weakness, some individual builders are seeing signs of hope.

 

Meridian, Idaho homebuilder CBH Homes saw sales pick up in October after a slow summer. But that came only after hefty discounts ranging from $10,000 to $15,000 per house. It offered them during a three-day weekend sale.

 

"There are buyers out there, but they just needed that little push to kind of get them convinced to buy," said Ronda Conger, CBH Homes' vice president.
I do sympathize with CBH's Ms. Conger. She's in sales; she needs to say something that seems positive. Unfortunately, what buyers need to "get them convinced to buy" is an economy that creates jobs and the kind of confidence that will enable people to be comfortable with making the kind of long-term commitment buying a home represents. We're not there.
I don't know how Mr. Shepherdson can be so confident that new home sales aren't going "to fall any further," especially given the data in the following chart (based on the Census Bureau's annual sales data):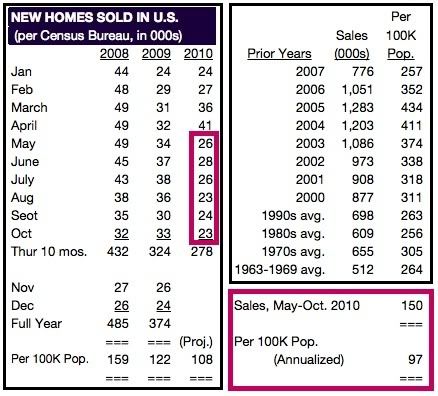 New home sales from May through October 2010 totaled 150,000 (see red boxes above). Even though May-October is supposed to represent the peak selling season, that is the lowest consecutive six-month total on record. The annualized sales rate of 97 per 100,000 is by far the lowest rate ever seen for any six-month period since records have been kept. Crutsinger's reported stats barely scratched the surface in describing how bad things really are, and have been.
The stats presented above also make a mockery of the AP reporter's 600,000-unit benchmark for a "healthy annual rate." Every decade back to the 1970s had an average annual sales rate above that, even though the nation obviously had far fewer residents. Adjusting for population, no previous decade has come in below 250 annual sales per 100,000 in population. To get to even that historically low level in a population of 310 million, annual sales would have to be 775,000, a threshold almost 30% higher than Crutsinger's absurdly low bar. In full historical context, a "healthy annual rate" should be at least 800,000-850,000. And who in the world believes that it has to take three years for a recovery to arrive?
One final cover-up indicator is found in this additional sentence in the AP's coverage: "Government tax credits had propelled the market earlier this year but those expired in April." Whose government and whose tax credits, Marty? Even though he championed those credits, as well as other initiatives that have only made things worse, the President Obama's name is found nowhere in Crutsinger's report. How convenient.
Cross-posted at BizzyBlog.com.