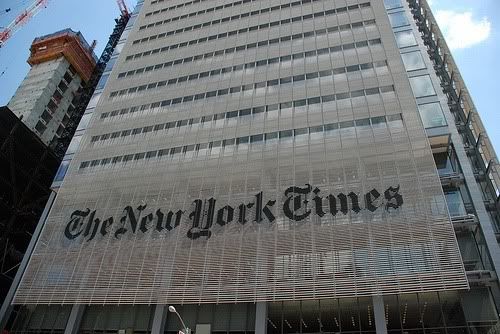 Two New York Times reporters were out to lunch, while the Old Gray Lady's layers of fact-checkers were apparently asleep at the switch.
In an item which contained a number of oddities, Times reporters Stephanie Clifford and Catherine Rampell wrote the following:
Over all, full-time work in retail is slightly down. The number of people employed in the retail sector in August fell 4.9 percent, to 14.4 million, from a year earlier, according to the Bureau of Labor Statistics.
My initial reaction was to wonder how a 4.9% drop in employment, which would involve about 700,000 jobs, could be "slight." But in this case, media bias isn't the problem (possible examples of bias will come later).
A look at the same BLS data the Times pair must have used reveals a likely level of sloppiness that should never gotten online, let alone into print (which it did -- on Page B1 in the October 6 paper):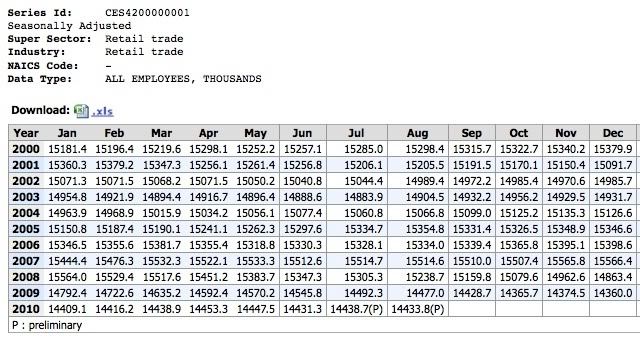 The closest I can get to what Clifford and Rampell may have meant to write is that seasonally adjusted jobs in retail dropped by 4.9 thousand in August 2010 compared to July (14438.7 minus 14433.8).
As you can see above, as well as in this table covering the same period's not seasonally adjusted numbers, there's no conceivable way you can get to a 4.9% drop in anything during the past year. Drops from August 2009 were actually 0.30% (seasonally adjusted) and 0.24% (not seasonally adjusted). Drops from August 2008 were both a bit above 5%.
Beyond that, I'm virtually certain that the table above encompasses all retail workers, not just full-timers.
Unless I'm missing something, Clifford's and Rampell's effort is really weak, as is the failure to catch the problems in their report.
Also weak were the following items:
The article's title as it appears online and in the print edition is appropriately grim: "Dim Outlook for Holiday Jobs." Oddly, though, the web page's title bar is a lukewarm "Holiday Hiring by Retailers Not Expected to Rise Much." Guess which title shows up in Google News searches (search was on "holiday retail sales new york times," not in quotes; third item in search done at about 10:30 a.m. ET)?
The pair's overall statement about retailers' hiring plans -- that "The recruiting firm Challenger, Gray & Christmas, forecasts that retailers will add up to 600,000 jobs in October, November and December, compared with a net gain of 501,400 holiday jobs over the same three months in 2009" -- is nice as far as it goes. But it overlooks that fact, as shown here at Challenger Gray's announcement (scroll to the end), that a 600,000-job fourth-quarter surge would still badly trail every year from 2002 to 2007 except 2003, which came in at 640,000. Only a slight shortfall from Challenger Gray's prediction will cause this year to trail the 585,000-job performance turned in during the last three months of 2001.
The Old Gray Lady should be able to produce better output than this.
Cross-posted at BizzyBlog.com.