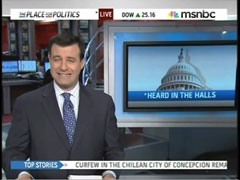 David Shuster may be on his way to CNN, and the cable network may be realizing that it needs the likes of David Shuster -- a
hyper-partisan liberal
-- if it wants to compete with MSNBC.
The New York Observer
reported today
that CNN shot a pilot for a new show co-anchored by Shuster, at right in a file photo, and Michel Martin, an NPR reporter with a lower profile, but a
noteworthy history
of liberal bias.
I wrote
a post
on Wednesday noting that cable news generally caters to a more political audience. I posited that CNN's supposed attempts to cater to the "center" were not only inconsistent with the network's routinely liberal reporting, but in fact self-destructive, as they try to carve out a market that really isn't there. Apparently CNN got the memo.
If CNN is indeed trying to chip away at MSNBC's dominance of the liberal cable news market, it will probably need more than Shuster. After all,
according to a network "insider,"
"Shuster has never been a major player at MSNBC." Ouch.
MSNBC, for its part, was furious that Shuster filmed the pilot with CNN. "If true, this is unacceptable and David will be punished appropriately," said Jeremy Ganes, a spokesman for the cable network.
Shuster is currently under contract with MSNBC, but two people "familiar" with that contract told the New York Times's
Brian Stelter
that it expires at the end of the year.
Shuster was conspicuously absent for both his 10 am and 3 pm slots on MSNBC today.
Without injecting too much speculation, it is entirely possible that Shuster feels he has been restricted by MSNBC brass. He has been banished from Twitter since he let his liberal bias get the best of him and derided conservative filmmaker James O'Keefe on the social networking site.
Shuster's Twitter account has been silent since January 27, when
NewsBusters
and other center-right blogs documented his blatant conflict of interest in covering O'Keefe's arrest. Ironically,
his last Tweet
cites a post from the far-left group Media Matters. Need we say more?
Judging from the report's of his CNN flirtation, it seems the first cabler is not unattracted by Shuster's brand of  biased left-liberalism. How the network heads there square this with their self-proclaimed desire to be "objective" one can only guess.