LoHud.com reports (HT to an NB e-mailer) that White Plains, New York Mayor Adam Bradley "turned himself in to police headquarters ... (Sunday) morning after his wife filed a complaint with police that he jammed her finger in a door around 9:30 a.m. Bradley was then arraigned on a third-degree misdemeanor assault charge at White Plains City Court."
The web site does not identify Bradley's Democratic party affiliation, which is perhaps forgivable under a belief that most local readers might know it already.
The Associated Press has no such excuse, at least once one of its stories goes over the national wires, as this one has:

That's pretty "clever" headlining, isn't it? Given that many "suburban" mayors, even in the Empire State, are Republicans, quite a few readers will naturally believe that the city's mayor is a GOP member.
There's no reason to believe that whatever readers attempt to discern from the headline will change after they read the unbylined story, which repeats the "suburban" theme and also fails to identify Bradley as a Dem: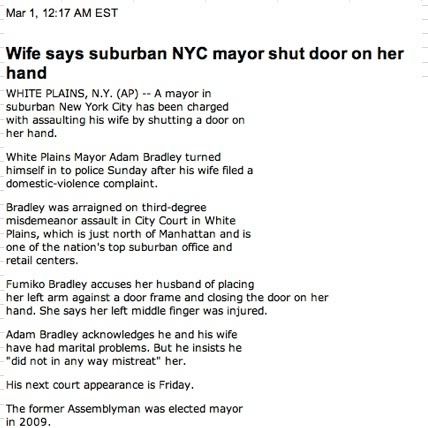 This obvious AP journalistic failure to follow its own stylebook, which tells reporters to name a public official's party "if readers need it for understanding or are likely to be curious about what it is," nonetheless can be viewed as an agenda-based "success" in one respect. After all, if the wire service story doesn't change future stories to flag Bradley's party affiliation, and if it keeps its practices consistent in similar future stories about other politicians, here is what searches on "Democrat arraigned" will continue to return: